Far Cry And Rainbow Six Fans May Be In For Some Bad News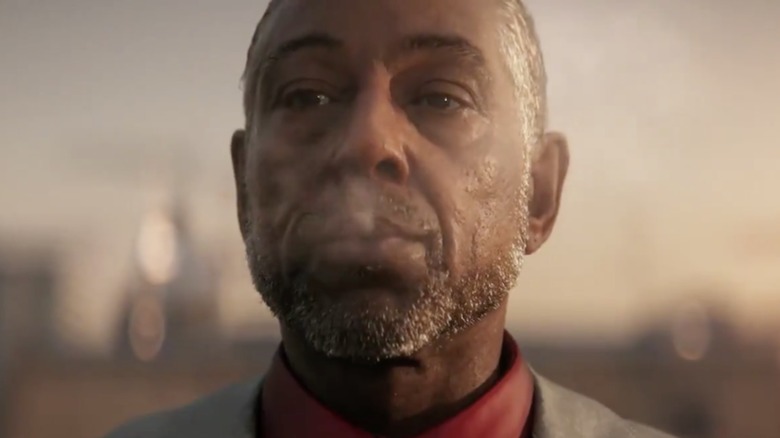 Ubisoft
The next console generation is about to launch, and there are plenty of exciting games on the way for both the Xbox Series X and the PlayStation 5. Unfortunately, a recent report seems to indicate that two major franchises will be late to the party.
Over on Twitter, video game industry analyst Daniel Ahmad has been reporting on Ubisoft's earnings for the first half of the 2020/2021 Fiscal Year (which spans from April to September). According to an Ubisoft memo shared by Daniel Ahmad, the company reported that the performance of its live services and back catalogue were higher than expected. However, these same reports featured some unfortunate news for fans of the Rainbow Six and Far Cry franchises.
Ubisoft's forecast for the second half of the Fiscal Year (Oct. to April) shows all of the games that are in the pipeline. Oct. through Dec. will see huge titles like Watch Dogs: Legion, Immortals: Fenyx Rising, and Assassin's Creed: Valhalla releasing alongside next-gen consoles. Then, the remake of Prince of Persia: The Sands of Time and Riders Republic will drop sometime in the first three months of 2021.
Missing from this list of games are Far Cry 6 and Rainbow Six: Quarantine, both of which are highly anticipated next-gen titles. Ahmad reported that this means gamers shouldn't expect either title at any time during the remaining Fiscal Year. Instead, these games will launch at some point after April 2021.
Ahmad also shared a screenshot of an Ubisoft memo that discussed the delays of these games, which were expected to be released much sooner. It seems that the development and marketing strategies for both games were significantly impacted by the Covid-19 pandemic. Ubisoft apparently had plans to release these games within the 2020-21 Fiscal Year, but have now pushed both back to unknown dates. The memo states that Ubisoft is prioritizing the ability "to maximize the long term value of [Ubisoft's] IPs." In other words, these games are just too big for Ubisoft to release without an adequate push. After all, gamers have seen Ubisoft games totally flop when they've been rushed out in the past.
Needless to say, fans are less than enthusiastic about this news. One person lamented that they were unsurprised by the Far Cry 6 delay, given the fact that there hasn't been much footage shown from it. Another gamer was concerned that this delay was an unfortunate sign of things to come from the industry next year. Another fan quipped that Cyberpunk 2077 is probably going to get delayed again, so Ubisoft is just moving its own games out of the way. Some other fans have expressed their hopes that the pandemic will be over by the time Rainbow Six: Quarantine is finally released, so hopefully the game's subtitle won't feel quite so awkward anymore.
Far Cry 6, of course, is the latest entry in the long-running Far Cry franchise. Far Cry 6 stars Giancarlo Esposito as the lead character, and some people believe it may secretly be a prequel to Far Cry 3. Meanwhile, Rainbow Six: Quarantine puts a sci-fi spin on the fairly grounded tactical shooter franchise. While both delays are a bummer for the fans, it seems that there was a good reason behind the delay. 
The rest of the document detailing Ubisoft's latest earnings call has been posted online, and it goes into a bit more detail concerning the delays. According to the document, delay of Far Cry 6 and Rainbow Six: Quarantine, which are referred to as "two high-contribution titles," is mostly "due to production challenges related to work from home." Basically, things are taking a bit longer to complete with everyone having to move away from working in the same offices. While this is a disappointment for the fans, it also shows that Ubisoft is prioritizing the safety and security of its employees during a difficult time.
On a side note, Ahmad also noticed that the re-release of Scott Pilgrim Vs. The World: The Game is also missing from the slate of upcoming titles, even in the digital-only listings. This comes as a big surprise, considering how much hype was built up by the announcement of the Scott Pilgrim game's return. After all, fans have been waiting to play Scott Pilgrim vs. The World again for years. Ahmad did clarify, however, that Ubisoft most likely has Scott Pilgrim: The Game on a separate list of back catalogue titles. Basically, don't freak out yet, Scott Pilgrim fans.
The news concerning Far Cry 6 and Rainbow Six: Quarantine marks the second significant video game delay to be announced this week. CD Projekt Red recently broke the news that Cyberpunk 2077 was being pushed back another 21 days, making things worse for the oft-delayed game.