Miles Morales And Spider-Cat Resurrect Classic Meme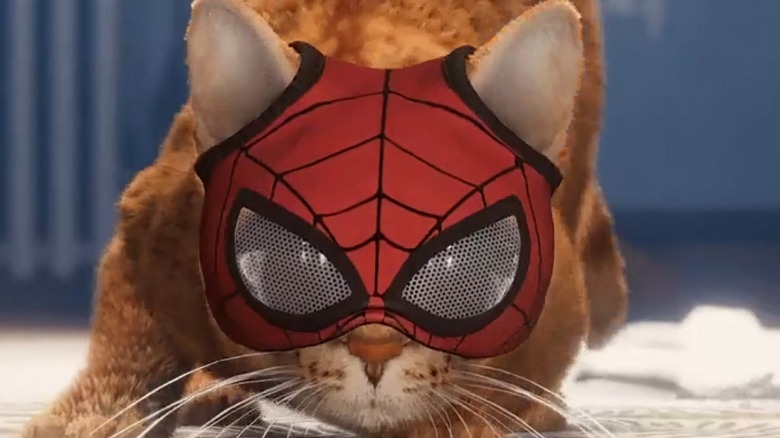 What could possibly be cuter than Spider-Pig (Or Spider-Ham)? How about Spider-Cat? Well, if you're a fan of the adorable feline sidekick, you're in for a real treat.
In celebration of launching Spider-Man: Miles Morales, Insomniac Games decided to get a little creative. The team made and shared a fun and silly GIF on Twitter that is an homage to a classic meme. The tweet showed Miles Morales and Spider-Cat emulating the famous meme where an excited Shaquille O'Neal is juxtaposed with a wiggling cat. This lighthearted post was dubbed "mandatory viewing" by Insomniac Games after it was retweeted, though who wouldn't want to watch Miles Morales doing his best Shaq impression with his lovable furry friend?
Memes have become an integral part of pop culture over the last decade, and fans have already gotten a jump start on the memes for the game's launch. It's only natural that developers would want to join the party. Unfortunately, not everyone is reacting in the way Insomniac Games had intended.
Several users in the comments have taken the opportunity to express displeasure over the changes made to Peter Parker's face. The hashtag "PatchtheFace" has made its way into the retweet, and someone even brought up the controversy over Miles' shoes.
Not all is negative in response to this innocent gag. One user commented "the only reason you put a cat in the game was so you could make this meme," to which Insomniac Games responded with three laughing emojis. Another user shared a God of War rendition of the same meme.
Spider-Cat was first revealed in an October trailer for Spider-Man: Miles Morales, and the feline companion raised a few questions. A rather strange addition, this little sidekick (also named Spider-Man, but commonly referred to as Spider-Cat) is introduced in a rescue mission. He then tags along with Miles as he whips and soars throughout the city. The cat crusader even helps Miles fight off the bad guys, and is apparently one tough cookie.
It's quite an odd choice, but cute nonetheless. And if a cat sidekick isn't precious enough, the little kitty even wears a Spider-Man mask. 
The inclusion of such a character does come out of left field. Is it possible that the introduction of this fuzzy crime-fighter truly was all part of a plan to release a spicy meme? Regardless, Spider-Cat is sure to bring lots of positive attention to Spider-Man: Miles Morales, which is already scoring big with critics.