Why PS4 Players Are Worried About God Of War 2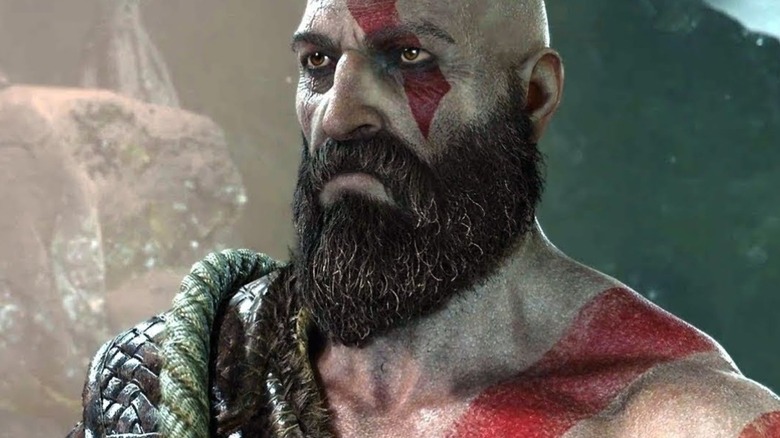 Sony Interactive Entertainment
At the tail end of PlayStation's Future of Gaming event back in June, viewers got the biggest announcement of all.
A brief teaser trailer pointed to the next installment in the God of War series, which was given the subtitle of Ragnarok. The follow-up to the 2018 PS4 gem is currently scheduled to launch on PS5 sometime in 2021. Sony Interactive Entertainment's Santa Monica Studio is in the midst of developing the next God of War for the newly released next-gen console. However, due to some recent comments from SIE president and CEO Jim Ryan, there's still much uncertainty surrounding whether or not it will come to PS4.
While speaking with The Telegraph, Ryan provided a worrisome answer for fans wanting to play God of War: Ragnarok on PS4. "Sorry. I've got nothing to say about that today," Ryan simply said. It's worth mentioning that two current PS5 games are also playable on PS4, Marvel's Spider-Man: Miles Morales and Sackboy: A Big Adventure. Sony has also confirmed that the upcoming Horizon Forbidden West will be a cross-gen title for PS4 and PS5. However, there are a few games that are solely PS5 exclusives, including Bluepoint Games' Demon's Souls remake and ASOBI Team's Astro's Playroom. In other words, it's already becoming normal for games to be released on the newest Sony platform and not the PS5.
In 2019, Jim Ryan conducted an interview with GamesIndustry.biz and spoke about the transition plans being implemented with PS4 owners in mind. "As we move towards the next-generation in 2020, one of our tasks – probably our main task – is to take that community and transition it from PlayStation 4 to PlayStation 5, and at a scale and pace that we've never delivered on before," Ryan stated.
More recently, PlayStation head of platform planning Hideaki Nishino provided more info on that transition, which he noted may take up to three years to finalize. Nishino provided the following comments to Japanese media outlet AV Watch, which was translated by Video Games Chronicle: "In terms of compatibility, it is important to move PS4 titles on PS5, but I have insisted that forward compatibility (supplying the same titles as PS5 to PS4) is important," Nishino said.
One future PS5 game that has been confirmed as a console exclusive is Insomniac Games' Ratchet & Clank: Rift Apart, which is currently penciled in for a 2021 release. PS5 owners will also be getting even more exclusive releases that year, such as Destruction AllStars and Returnal. 
As for God of War: Ragnarok, fans will have to wait until Jim Ryan and PlayStation are willing to discuss plans for the next game's release strategy.