This Award-Winning RPG Just Got Added To PlayStation Now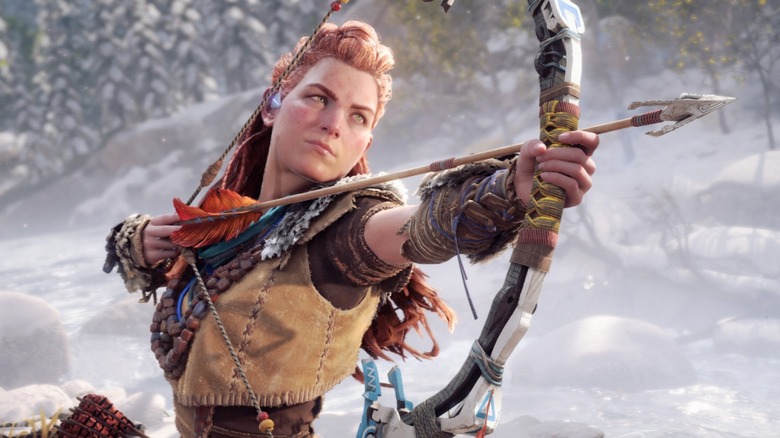 Sony Interactive Entertainment
What Sony's PlayStation Now service lacks in recent releases it makes up for in beloved titles. Starting today, gamers who subscribe to PS Now can play one of Sony's best recent IPs: Horizon: Zero Dawn.
Advertisement
For those who missed out on the game, Horizon: Zero Dawn is the tale of Aloy, a young woman in a post-apocalyptic future where humans have returned to tribalism, yet they have access to technology beyond what we have today. You get to explore a rich open world, unravel a mystery, and hunt giant robot animals. There'd be a Monster Hunter joke here, but Capcom already made it with Horizon: Zero Dawn character and Palico skins.
Horizon: Zero Dawn's PS Now inclusion has been a long time coming and is well-deserved. After all, the game won several awards, including BAFTA's "Best Original Property" and "Outstanding Achievement in Videogame Writing" from the Writers Guild of America. Plus, the PS Now incorporation helps make up for Sony not including the game in the otherwise impressive PlayStation Plus Collection.
Advertisement
If you skimmed the announcement, you might assume that a PS Now subscription will only net you the base game without its DLC, The Frozen Wilds. Well, that isn't the case. Horizon Zero: Dawn on PS Now also comes with the DLC, so gamers will actually receive Horizon: Zero Dawn: Complete Edition. It's a small difference, but an important one. Moreover, this level of generosity is uncharacteristic for Sony, as other games on PS Now that have DLC, such as Middle-Earth: Shadow of War and Final Fantasy 15, are only available in their default, vanilla versions. DLC costs extra on top of your subscription, but not for Horizon: Zero Dawn.
Of course, Horizon Zero: Dawn isn't the only new title to grace PS Now. Sony is also adding the co-op run and gun love letter to '80s action heroes/movies Broforce, the deserted island survival simulator Stranded Deep, the Nascar destruction derby Wreckfest, the sci-fi souls-like Surge 2, and Darksiders 3 (which is yet another souls-like).
Interestingly, this isn't the first time Horizon Zero: Dawn entered the news highlights of 2020. The game released on PC this past summer, and Sony revealed a sequel, Horizon: Forbidden West, slated for sometime in 2021. While many gamers who missed out on Horizon Zero: Dawn are probably celebrating its arrival into the halls of PS Now, you shouldn't sleep on this robotic gift horse. Titles don't stay in PS Now forever, so get a move on while you can. You don't want opportunity to pass you by twice, right?
Advertisement