New Features Coming In The Dead Cells: Fatal Falls DLC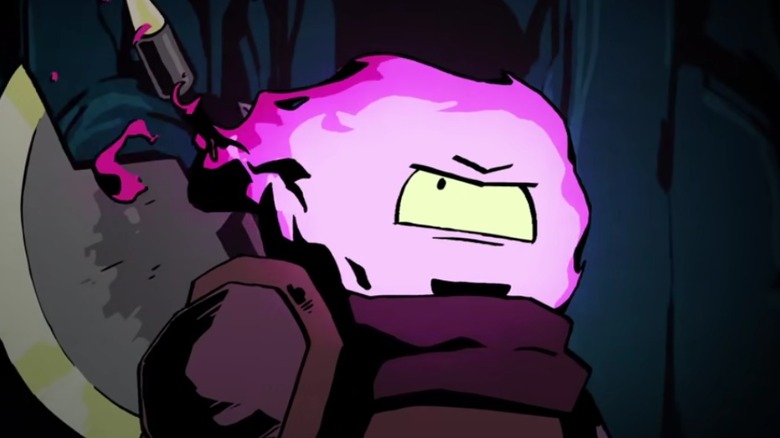 Motion Twin
Motion Twin's Castlevania-inspired game Dead Cells is kicking off the new year with a brand new DLC called Fatal Falls. The $4.99 content, which will include two new biomes and a boss, will arrive roughly one year after Motion Twin released Dead Cells' The Bad Seed DLC. The developer even said in the Fatal Falls official announcement that it doesn't plan on stopping there.
Motion Twin revealed via a Steam post on Tuesday that Fatal Falls is expected in "early 2021." The upcoming DLC will include two new biomes called Fractured Shrines and The Undying Shores, both of which run parallel to the pre-existing Stilt Village, Clock Tower & Time Keeper areas, as well as their alternative paths. According to the developer, these biomes are meant to be a "break from getting slaughtered by undead pirates."
Fatal Falls' teaser trailer came complete with some relaxing music, rain-covered scenes, and balancing yoga. Don't be fooled, though, because the floating islands are littered with deadly traps, new and familiar enemies, and a new boss. Motion Twin also teased that the DLC will contain some brand new weapons, but more on that will be revealed later.
Motion Twin shared in the announcement that the DLC will cost $4.99, but regular updates will continue to be added to Dead Cells for free. Last year, Motion Twin noted that it had two years' worth of Dead Cells DLC content up its sleeve, meaning that there's still at least another year of content to come. "We're pretty sure that we have more than that in our heads," Tuesday's Steam statement read. "Basically you can fully expect more of our regular updates to continue next year."
Dead Cells launched in 2017 on PC, Mac, Nintendo Switch, Xbox One, and PlayStation 4. Dead Cells later came to mobile devices in summer 2019. The player controls The Prisoner, a.k.a. The Beheaded, a gas-like creature who can possess executed bodies. The 2D action title incorporates roguevania elements, as well as pattern-based bosses, exploration, and nonlinear progression. Motion Twin revealed in this latest DLC announcement that Dead Cells passed 3.5 million copies sold on all platforms.
Motion Twin has proven its devotion to keeping the game fresh with new content and giving back to loyal Dead Cells fans. Alongside the launch of the DLC last year, a special Dead Cells: Prisoner's Edition bundle released, complete with a figurine, collector's pins, a vinyl record, and more. Ahead of the Fatal Falls DLC release, Motion Twin also plans to ship a Christmas update in mid-December.
On Steam, you can wishlist the Dead Cells: Fatal Falls DLC to stay updated on its release date.