The Popular Hitman Feature That Started Out As A Bug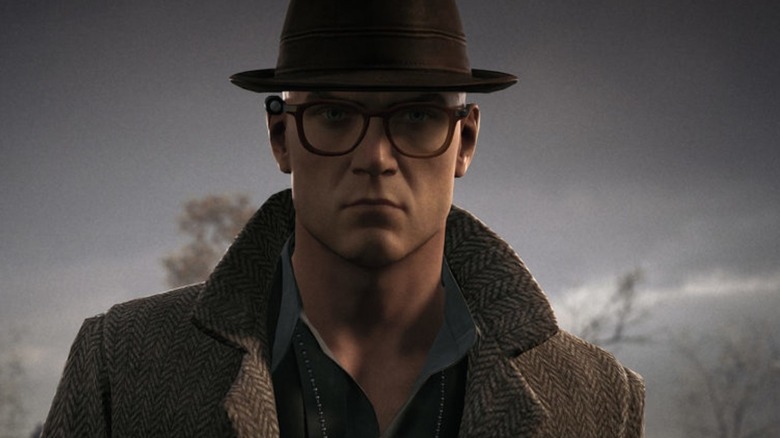 IO Interactive
The highly-anticipated release of Hitman 3, the third and final installment of IO Interactive's "World of Assassination" trilogy, is mere days away. While many fans are fired up to try Agent 47's arsenal of advanced, realistic weapons with adaptive triggers and haptic feedback, the most jovial of the bunch are still thinking about the beloved Hitman 2 briefcase bug-turned-feature, and hoping for its return.
Hitman 2 originally contained a bug that essentially allowed players to use Agent 47's briefcase as a homing device. Although the bug was fixed, the IO Interactive team re-released the Homing Briefcase as an official feature in Aug. 2019. Embracing some self-deprecation about the bug and nodding to its receptive audience who loves a bit of tongue-in-cheek humor, IO Interactive described the glitch-turned-feature as a "physics-bending briefcase...designed to induce fear and terror in whoever gets in its way." 
In a recent interview with VG247 concerning the upcoming release of Hitman 3, IO Interactive executive producer Forest Swartout Large and communications manager Travis Barbour touched on the inclusion of the briefcase bug in the new game. For Barbour, embracing the whimsy of the Homing Briefcase, speaks to the advantages of independent developing and leaning into the lighter side of things: "That's what I like about IO; it's one of those IO moments where we embraced it, ran with it, and made something fresh out of it."
While players may come to Hitman 3 for the dark assassin storyline that takes Agent 47 on a worldwide adventure, they will stay for the fun, quirky features like the briefcase bug. Though the series holds nothing back in terms of globetrotting adventure and endless assassination, longtime players particularly relish the lighter moments where they get to launch launch snowballs, flapping fish, and even energy drink cans at their targets for a change. The briefcase is the perfect example of how a bit of levity that can still make for a solid gaming strategy. As silly as launching a briefcase as a target may look, it's actually an effective tool given its heat-seeking capabilities.
Start your countdown if you haven't already, because Hitman 3 is out for release Jan. 20, 2021. And that's not the end for Hitman's creators. While Hitman 3 is sure to be a fun time, fans of the epic series and the development company behind it are on the edge of their seats waiting to learn more about IO Interactive's recently announced James Bond game.