BioWare Cancelled A Star Wars-Inspired Mass Effect Game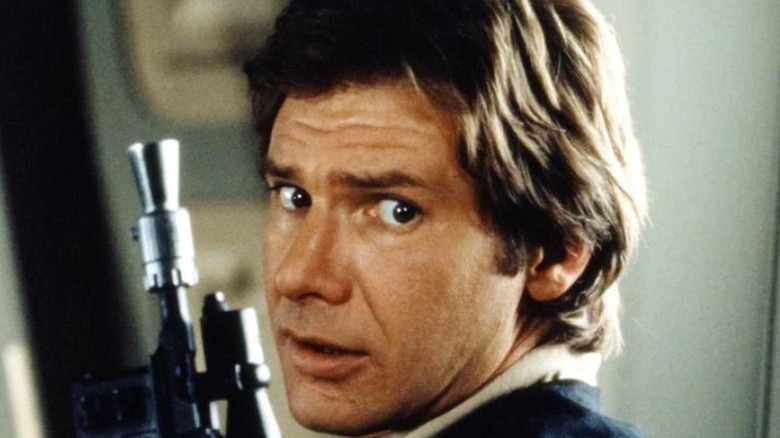 Hot on the heels of the new trailer for Mass Effect Legendary Edition, which brings the classic Mass Effect trilogy to modern consoles with a host of upgrades and changes, new tidbits have come out regarding the franchise's history. One such tidbit came out of TheGamer's interview with Dorian Kieken, a former director at BioWare, during which he revealed the details of a different Mass Effect title BioWare had toyed around with in 2008.
In the year following the first Mass Effect entry's release, the team at BioWare considered a Star Wars-inspired Mass Effect game that would have revolved around a Han Solo-type character. According to Kieken, the game would also have taken cues from the classic action-adventure series Star Control. He added that the title was meant to "expand the Mass Effect universe and be done in parallel [with] the trilogy."
Kieken described how the protagonist in the proposed Mass Effect title would have been a "grayer" character, compared to "the chosen super-soldier," who ultimately arrived in the form of Mass Effect's Commander Shepard. Kieken compared the concept to "exploring the Star Wars universe" in the shoes of a smuggler or any non-Jedi character. The concept for this game involved more "story freedom" and exploration.
In the end, the idea was thrown out so the team could focus on making the follow-up to Mass Effect. "We all needed to focus on Mass Effect 2, which was the right call at the time," Kieken stated. He added that he would "definitely like to see a game like that one day."
Kieken drew a comparison to The Mandalorian, which also features characters who are more morally ambiguous than many of the characters found in the mainline Star Wars films. Of course, there are exceptions, but the Star Wars universe is rife with characters whose motivations often fall squarely on one side or the other of the moral compass.
The Mass Effect series altogether does require tough decision-making, though as implied by Kieken, the series generally features moral linearity. In the Mass Effect series, players are capable of Paragon (good) and Renegade (evil) options throughout the original trilogy's narrative. Mass Effect Legendary Edition, which includes all three original titles and every DLC (along with many other goodies), will be available on PC, PS4, and Xbox One on May 14, 2021.