The Race Between Xbox And PS5 May Be Closer Than You Think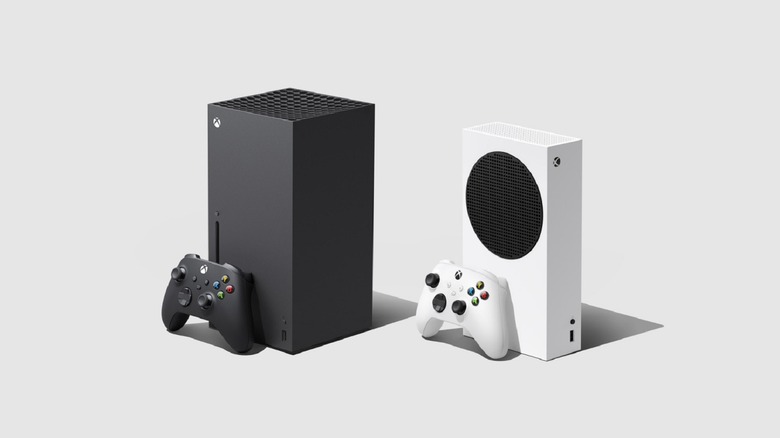 According to analyst Daniel Ahmad, Xbox Series X|S sales are trailing PS5 sales by about one million as of Feb. 3. The PS5 reportedly sold over 4.5 million units in 2020 – all while both consoles experienced massive shortages. It's unknown how many consoles the Xbox Series X|S and PS5 would have been able to sell if they had been able to keep the units in stock.
Both the PS5 and the Xbox Series X|S have suffered from supply shortages, which are also crippling the graphics card market. With a lack of availability for semiconductors and other critical parts, both Microsoft and Sony haven't been able to produce as many units as they needed. According to Microsoft executive Mike Spencer, supply shortages are likely to continue until June 2021. Sony has also stated that their supply difficulties are not likely to end soon, according to BGR.
If Ahmad is right, Xbox Series X|S sales are currently hovering around 3.5 million units, which isn't bad considering the manufacturing difficulties both companies now face. And the Xbox Series X|S doesn't rely as much upon raw console sales — due to Microsoft's new emphasis on cross-play and Xbox Play Anywhere, gamers can play many Xbox games on any supported device.
According to Forbes, the Xbox One sold about 46.9 million units, compared to 108.9 million for the PS4 and 52.48 million for the Nintendo Switch. Comparatively, the Xbox 360 sold 84 million units, and the PS3 sold 87.4 million units. Both the PS5 and the Xbox Series X|S are significantly underrepresented in the market as it stands — and lagging behind by 1 million is nothing for the Xbox Series X|S compared to the prior generation.
In addition to the very real scarcity, perceived sales of the PS5 and Xbox Series X|S are being held back by scalpers. Tech Radar reports that many gamers seeking the consoles are resorting to chasing gaming restocks in an attempt to snag them before they are all sold to resellers. It's believed that scalpers have made approximately $143 million on just PS5 consoles alone. Thus, even when the consoles are restocked, it has become difficult for the general public to acquire them.
The Xbox Series X|S still has every opportunity to close the gap because both the PS5 and Xbox Series X|S have so significantly undersold their markets. But no one has clear answers on when supply chain issues will clear up. At minimum, fans of the console may need to wait until June.