BossLogic Reveals Lady Dimitrescu's True Foe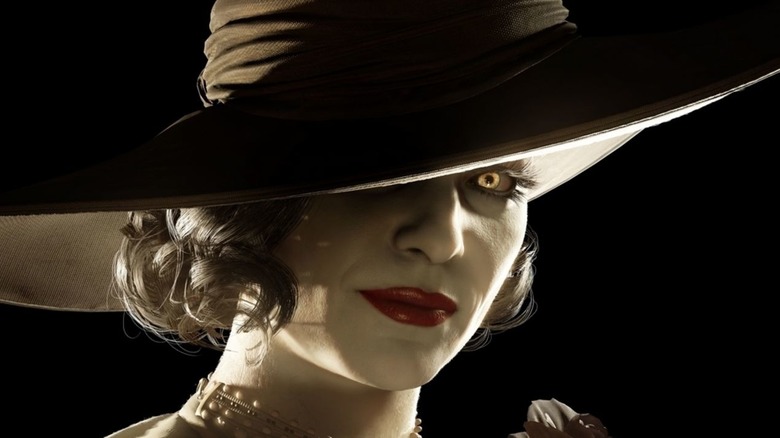 One of the most anticipated game releases of 2021 is none other than Capcom's latest foray into the world of survival horror.
Resident Evil: Village arrives on May 7, 2021 for PC and last- and current-gen consoles. Just like its predecessor, Village will see players confront an army of night terrors from a first-person perspective. Ethan Winters will also make his return when an alarming series of events leads him to the titular village. This time, one of the most dangerous threats he'll have to face is also one of the tallest villains in Resident Evil history.
That supernatural baddie is none other than Lady Dimitrescu, who has earned quite the fan following since her reveal. Twitter has been in an ongoing frenzy regarding Resident Evil: Village's towering vampire lady and have furiously debated her true height. Resident Evil: Village art director Tomonori Takano recently put the debate to bed by revealing just how tall Lady Dimitrescu really is. 
As fanart and memes continue to circulate, one artist imagined Lady Dimitrescu facing off against one of Hollywood's most formidable monsters. BossLogic hopped on Twitter to debut their latest piece of fanart, which owes inspiration to the upcoming Godzilla vs. Kong blockbuster film. The retooled movie poster shows the big lizard getting ready to confront Lady Dimitrescu herself, who looms over the distant city landscape.
When all is said and done, Lady Dimitrescu's huge surge in popularity will likely be remembered as one of the biggest gaming trends of 2021. Hopes run high regarding her full role in Resident Evil: Village and the eventual boss encounter that players will enter into with the vicious vampiress. 
Despite Lady Dimitrescu's instant stardom, the lead up to Village's release has not been all smooth sailing. The Duke, another character featured during the Resident Evil Showcase, was met with less enthusiasm, as many viewers saw his introduction and design as a fat-phobic caricature. One gaming and media scholar even fired back at the developers, breaking down the possible issues with the Duke in a Twitter thread.
While it has encountered a few bumps in the road, the hype train for Resident Evil: Village is still revving up. On Jan. 21, Capcom offered a deeper look at the title and its multiplayer component, Resident Evil Re:Verse. It also released the Maiden demo, a playable teaser for the game that will hopefully help keep Resident Evil fans satiated until Village releases later this year.