You Can Beat Hades Using A Pomegranate, But Should You?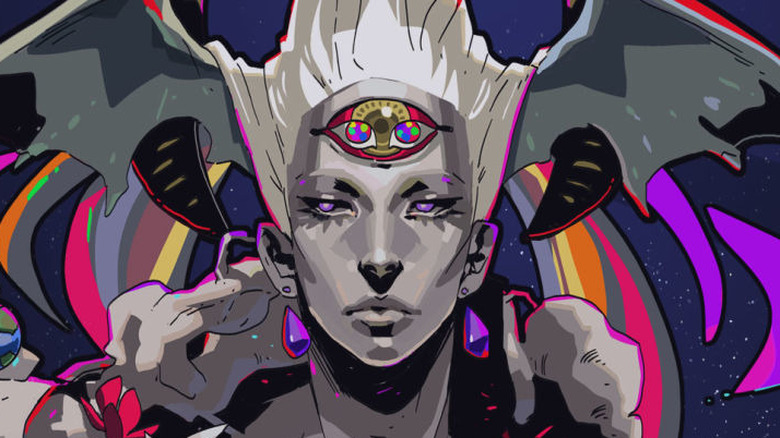 Did someone say "pom power?" Yesterday, Twitch streamer Rudeism beat Hades in a whole new way: by using not the Eternal Spear, nor the Shield of Chaos, but an actual, IRL pomegranate. This is not to be confused with the in-game Pom of Power upgrades. No, Dylan "Rudeism" Beck literally chopped a pomegranate up into 10 pieces and wired those to a MakeyMakey circuit board. So even though it's now officially possible to beat the award-winning indie game with a pomegranate, it's still super hard and difficult to clean up after.
Advertisement
But to each their own! Thanks to Rudeism's perseverance and experience playing with all types of different controllers, his efforts paid off after 33 runs to be exact.
So, how in the world does that work? Thanks to the magic of his MakeyMakey circuit board, Rudeism was able to wire each piece of the pom so that they corresponded with the original controller buttons (he even arranged them all in the proper order). Even on a towel, it made a mess, but if you're into magic, darkness, and antioxidants, it might just be worth it.
This isn't the first time Rudeism has made a creative controller, and it certainly won't be the last. True to his Twitch bio, "I can turn anything into a controller," he's played Untitled Goose Game dressed as a goose, Tetris with an eggplant, and Fall Guys with a guitar AND a handful of jellybeans. He even holds a Rocket League record for playing the game with a Guitar Hero controller. Even with his experience, this was his first time playing and beating a game with a pomegranate.
Advertisement
Despite a harrowing moment when his Dash button came loose, Rudeism managed to bring home the victory after several attempts. Rudeism's tweet announcing his win was gushing with excitement, and the clip will keep you on the edge of your seat. Fans commended his efforts on Twitter. @NuxyrRyxun wrote "Ah yes, the way the ancient greeks intended." Some players commented that they could hardly beat the game with a regular controller, so they were impressed with Rudeism's feat. Not only were fans gushing. The official account for Hades developer Supergiant Games commented, "Hah, amazing!!" 
Whether you're still struggling to break out of Tartarus and don't know which aid boons are best, or you're ready to tear apart your kitchen in search of the next food controller to take down Hades, Rudeism's successful experiment sure is fun to watch. Whatever you decide to try, it's certainly impressive that Rudeism found a way to make this happen. Clearly, he's enjoying the fruits of his labor.