This Celebrated Call Of Duty Mode Is Making A Comeback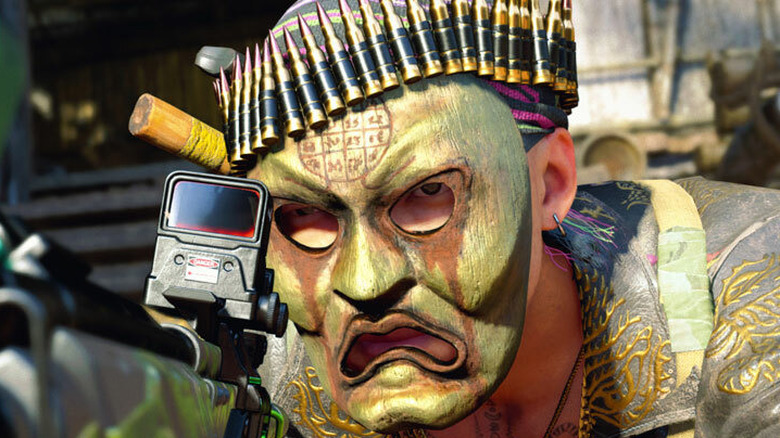 A fan-favorite gameplay mode from the Call of Duty series is finally making its way to Black Ops Cold War. Gun Game is coming with Season 2 of the hugely popular shooter, which launches on Feb. 25, 2020.
Gun Game has been a beloved mode since the first Black Ops game, and has since appeared in multiple installments of the series. However, up until the launch of Season 2, it has been absent from Cold War. In Gun Game, players earn different weapons by making kills, and the first person to advance through all of the available guns takes the win. That's not all — you can also set enemy ranks back with melee kills and finishing moves, pushing them further away from victory.
In Cold War's version of Gun Game, you'll start with a pistol and end with a knife, so watch out for the players sneaking around with a knife out. Try to melee them with your weapon to demote them and give yourself a better chance at winning.
In many of the newer Call of Duty games, Gun Game has come and gone as a limited time game mode. It looks like that will be the case with Cold War as well. This first round of Gun Game will last through launch week, according to the official Call of Duty blog.
That's not all that's coming with Season 2. Cold War players can look forward to a variety of new content in both Warzone and the main game. Four new multiplayer maps will be added, three of which will stick around for the entire season. The new Battle Pass will also be dropping, so look forward to new skins, Operators, weapons and other rewards for playing.
Zombies mode, which made a return in Cold War after being scrapped in Modern Warfare, is getting its own slew of additions, although some of those surprises were previously leaked on Twitter. Remember the Death Machine from Black Ops? The oppressive minigun is returning to Outbreak, the new Zombies mode, to help you mow down lines of enemies. There are also two new vehicles coming to help you fight the undead. 
There are also new game modes for players to conquer in Warzone. Unfortunately, there's no news yet for Modern Warfare players waiting for a rumored content drop.