Dr Disrespect Gets Great News About His Mysterious Warzone Ban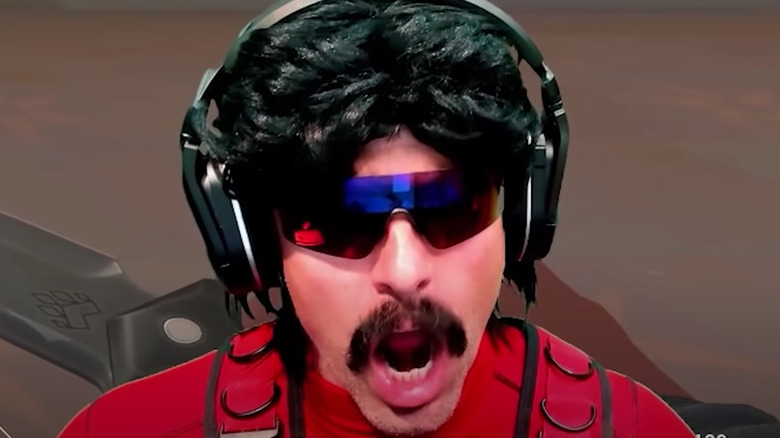 Dr Disrespect/YouTube
Dr Disrespect and his fans recently received some bad news when Doc's Warzone partner, ZLaner, took to Facebook to explain that Dr Disrespect was not allowed to participate in the Toronto Ultra Call of Duty tournament. While ZLaner didn't have any definitive answers at the time, the CoD player and content creator theorized that it had something to do with Doc's ban from Twitch. The Doc was ultimately blocked from competing in that tournament, but it seems like his tournament dreams are about to be back on track.
During the Doc's March 8 stream, a fan sent the streamer a donation and a note telling him that they thought it was unfair to keep him from competing in Warzone. The user added, "Your energy is needed in these tournaments."
To that, Dr Disrespect revealed an exciting update. "Well, we're allowed to compete," the Doc responded. "Flip phone rang the other day. Good news: we can compete in Warzone tournaments again."
Dr Disrespect did not explain what had transpired or who he had talked to in order to get back into Warzone tournaments, but he seemed to be very pleased with the result. When a fan asked why he was banned from the Toronto Ultra tournament in the first place, the Doc responded with his characteristic sense of humor and referenced his professional past with the franchise.
"I don't know [why], man. I mean, I designed half the maps for Call of Duty: Advanced Warfare," he responded. After saying that he "didn't want to get into it," the Doc made a few more references to the maps he designed for Sledgehammer Games, including Horizon and Solar.
Ever since Dr Disrespect's mysterious ban from Twitch last year, the Two-Time Champion has had a bit of a bumpy ride when it comes to joining fellow streamers for a bit of gaming action. Following Doc's interaction with Nadeshot during a Call of Duty: Warzone tournament in September 2020, Twitch changed its guidelines to prevent Twitch streamers from promoting a banned creator, such as Dr Disrespect. The ban from Toronto Ultra's tournament seemed like the latest nail in the competitive coffin for the Doc. Instead, it's beginning to look like yet another Doc-related ban that will never be fully explained to the fans.
Luckily for Dr Disrespect's fans, they can look forward to seeing him competing in more Warzone tournaments in the future. The Doc is sure to be excited about this turn of events, especially since he's spent a good bit of time recently telling fans why Warzone is his favorite battle royale.