This Very Tall Woman Is The Best Lady Dimitrescu Yet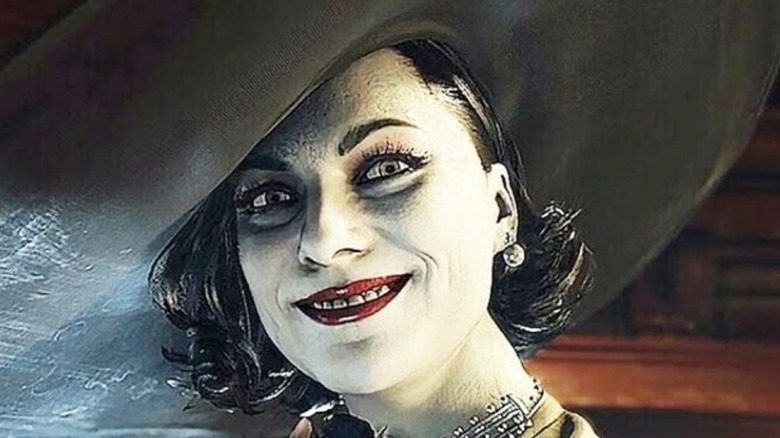 There is an awful lot of excitement surrounding the next entry in the Resident Evil franchise, Resident Evil Village, but one character has particularly caught fans' imagination: Lady Dimitrescu. Ever since the villainous figure appeared in a trailer for the game, fans have been fascinated with her, and now former Olympian Ekaterina Lisina has brought her to life in an incredible cosplay.
Lisina, who won a bronze medal as a part of the Russian basketball team in the 2008 Beijing Olympics, posted photos and a brief video teasing her full Lady Dimitrescu cosplay and promising more content to come. To say that the former Russian basketball star looks the part is an understatement, and as the record holder for the world's tallest professional model, the 6-foot, 9-inch Lisina is uniquely suited to cosplay Lady Dimitrescu.
Interestingly, Lisina's height is the exact inverse of what Capcom has confirmed to be Lady Dimitrescu's official height. Lady Dimitrescu stands at a staggering 9' 6", which includes her hat and high heels, according to a statement from Resident Evil Village art director Tomonori Takano. That confirmation only came after fans launched an extensive effort to determine how tall Lady Dimitrescu was, which initially pegged her at a mere eight feet.
While Lisina's height and complexion gave her some obvious natural advantages to cosplay Lady Dimitrescu so convincingly, she also received some help from a large team of fashion designers to help compose the outfit. In both photos of her vampiric get-up, Lisina thanks a dress designer, makeup artist, photographer, photo editor, and a pair of assistants, giving fans an idea of just how much effort went into recreating Lady Dimitrescu's sinister evening wear. Lisina's Lady Dimitrescu cosplay wasn't her first elaborate video game-related photoshoot — she has also cosplayed as Princess Peach, carrying Mario in her arms.
Despite the great length that fans have gone to find out details about Lady Dimitrescu, there is still much that has yet to be revealed about the exceptionally tall villainess. Lady Dimitrescu first appeared in a Resident Evil Village trailer speaking to the mysterious Mother Miranda, as Lisina recreated in her Instagram video, and is featured in the game's Maiden demo, currently available on PlayStation 5. 
Those appearances confirmed Lady Dimitrescu's subordinate relationship to Mother Miranda, hinted at the abilities of her three daughters, and demonstrated her position of power at Castle Dimitrescu, but that's about all. Fans will just have to wait until Resident Evil Village releases on May 7 to dive into her backstory.