Nintendo Got Strangely Authentic With This Animal Crossing Detail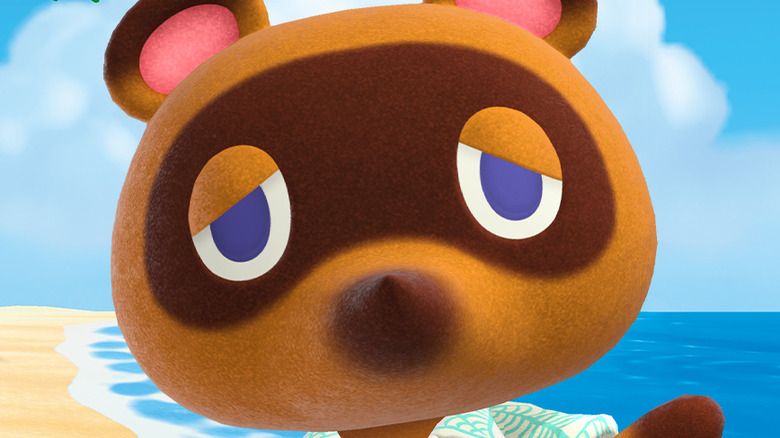 Animal Crossing: New Horizons fans are always getting excited over something in the game, whether it's new items like the puppies from the last Winter update or February's Mario-themed items. And who could forget about the limited-time whoopee cushions that were added for April Fool's Day? This time, fans' excitement centered around Tom Nook and a little detail at his station at Resident Services — and it's definitely something that only an adult would notice. To put it plainly, it's bizarrely specific.
Reddit user pancakerayleigh posted two screenshots of Tom Nook's printer along with a screenshot of a Xerox WorkCentre 7225 and said that the in-game printer was most likely based on this specific Xerox model. According to another Reddit user, PapaBradford, this was "a very popular printer model." PapaBradford added that they "wouldn't be surprised if the devs picked this either because they have one or they knew this is 'the' printer." 
Other users had different ideas as to why developers used this specific printer model. User HarbingerOfGachaHell commented "Remember [Animal Crossing] is a Japanese game so [of] course they'd reference the most popular brand in the country." An older Reddit post from ActuallyATomato likened the printer to a GameCube controller because of the matching hues of blue and the green, yellow, and red buttons. Another Redditer, MasterDave, weighed in with the idea that the printer was actually based on a Xerox ColorQube 9800. Other Reddit users joked about buying the printer as a form of memorabilia. 
Fans have mentioned other Animal Crossing items that looked like they were influenced by real-life products. Reddit user baloney_popsicle brought up the seaplane and said, "Dodo's plane is a Cessna 208 on floats." Some Animal Crossing fans on Twitter debated what products Nintendo had used as inspiration for some of the game's music recording equipment.
Some users wanted to see Xerox run an official Animal Crossing campaign, with one of the more popular fake slogans being, "This dictatorial economy-manipulating eco-terrorist raccoon-wannabe uses our printer and you should too!" Reddit user BrightSideCynic, who claims to have managed some of Xerox's ad campaigns, said, "I could totally see my clients wanting us to partner with Nintendo to incorporate this." Who knows, maybe fans will see a crossover one day!
Between the two Reddit posts, one thing was made clear: fans are positive that Tom Nook's printer was influenced by a popular real-life brand. No matter which model he has, Tom Nook can print, copy, or scan to his heart's desire.