One Of The Most Viral Mobile Games Is Back In The Strangest Way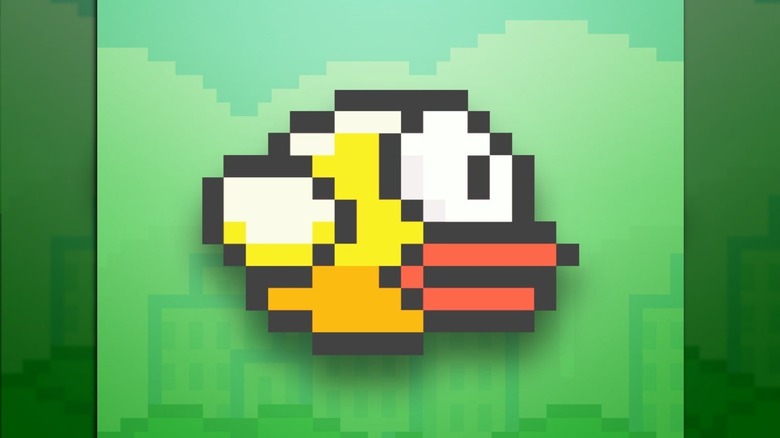 Back in 2014, Flappy Bird was a cultural phenomenon, reaching 50 million downloads before creator Dong Nguyen pulled it from the app store, citing guilt over player addiction. It was estimated that Nguyen was making roughly $50,000 dollars a day in ad revenue prior to the app's removal. In its absence, numerous knock-offs and copycats came onto the scene, including a Flappy Bird-inspired battle royale in 2019. As for the original Flappy Bird, Nguyen never put the game back on the store, but others have recreated it — and now, one person has even integrated it into a computer operating system.
Neil Sardesai (@neilsardesai on Twitter) was able to integrate Flappy Bird into a notification on macOS and shared it in a video on Twitter. The video shows a notification pop up in the corner reading "It's game time, baby! Open for a surprise." The notification then opens into a smartphone-shaped window, in which Sardesai briefly plays Flappy Bird. 
Sardesai explained in a follow-up tweet that the version of the game they used to create this notification was made by Play Canvas, and that this browser version is available for anyone to play. Other Twitter users had a positive reaction to the video, with some even asking if Sardesai could do the same thing with Doom. After all, that game has a history of running on nearly anything, including potatoes.
Sardesai explained on Twitter that although Notification Extensions were added in macOS Big Sur, there isn't a set template for them, so Sardesai had to build it in iOS first. Sardesai is an iOS engineer at Butterfly Network and regularly posts strange macOS builds, like one involving the Google Dinosaur game built into the macOS toolbar.
As for original Flappy Bird pioneer Dong Nguyen, his company dotGears once partnered with Obokaidem to release Ninja Spinki Challenges, a collection of minigames. However, that title's website is no longer live, and Nguyen himself hasn't tweeted since 2017.
While it's incredible to see the return of Flappy Bird in any form, this isn't even the wildest mobile gaming news in recent memory. The internet lost it over a mobile game that included unlicensed characters from Super Smash Bros. with some bonkers voice lines. Meanwhile, a new job listing also revealed that PlayStation might be making a return to the mobile game market in the coming years.