Fall Guys Twitter Is Absolutely Savage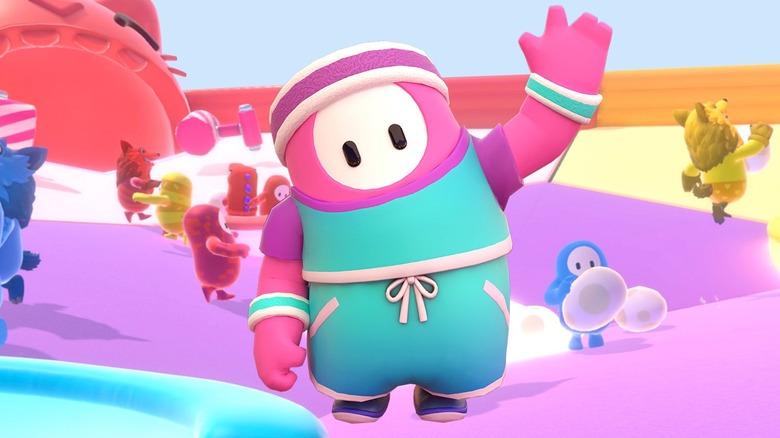 Fall Guys: Ultimate Knockout is the newest battle royale craze sweeping the gaming world. However, not everyone is having an easy time snagging Crowns and ensuring victory in the game. One of the more high profile people having a tough time with Fall Guys is Twitch streamer TimTheTatman. Despite the fact that Tim hasn't quite gotten the hang of Fall Guys yet, no one could have expected the hilarious ways in which the official Fall Guys Twitter account would have started trolling the streamer.
The feud seemed to have kicked off when FaZe Clan's official Twitter account asked followers to tag someone who would probably never win a Crown in Fall Guys. In response, the Fall Guys Twitter account tagged TimTheTatman. TimTheTatman seemed surprised at this, but let it go. Fall Guys then tweeted at TimTheTatman asking him how many Crowns he had won. Shortly after that, Fall Guys asked why he had been taking up all of the game's losses on his own.
This finally got a more intense response from TimTheTatman, who jokingly threatened to take the Fall Guys social media team on in the Gulag. He is of course referring to the prison in Call of Duty: Warzone, a game that TimTheTatman has had quite a bit more success at playing. In particular, TimTheTatman has displayed some rather tricky tactics in the Gulag himself, at one point tricking an opponent into thinking he was away from his keyboard before going in for the kill.
Fall Guys did not slow down one bit, however, and the merciless teasing continued. At one point, even TimTheTatman's fellow streamer and frequent collaborator NickMercs decided to get in on the action. NickMercs shared a clip of TimTheTatman being eliminated during a Fall Guys match and wrote, "Hey @FallGuysGame here's some more evidence to support your claim of @timthetatman being the worst account on the video game." Fall Guys simply replied that the clip in question was "embarrassing."
In a false attempt at cheering TimTheTatman up, Fall Guys then claimed that there was only one other account in the game that was worse at Fall Guys than he was. Fall Guys further claimed it was a developer's account that doesn't even participate in actual gameplay, which is a pretty brilliant slam.
"Hey Tim, we just ranked all of our players by how well the are doing and I thought you'd like to know you aren't actually in last place," read the tweet from Fall Guys. "There's one other account that's done worse than you... but it's actually a developer account that we use for testing [away from keyboard]."
At one point, Fall Guys offered to send a Crown to Tim's account to get people to stop roasting him for his losses. TimTheTatman took the bait and flipped the script on Fall Guys. He demanded that Fall Guys make up for this "slander" by designing a character in the game to look like him.
Finally, Fall Guys delivered perhaps the greatest insult when the Twitter account offered to fake a victory for TimTheTatman. "Hey Tim, it's me again. I've been chatting with the developers," read the tweet. "We thought maybe we could film ourselves winning, and then you could just stream our video while you pretend to play?"
Fall Guys: Ultimate Knockout has gained quite a bit of momentum since it launched earlier this month. Though there was a bit of a commotion when it was announced that the game would launch for free for PlayStation Plus members, the game has still attracted a sizable fan base on both the PS4 and the PC. The game's release day also garnered a bit of negative attention when its servers were overwhelmed by the sheer number of people playing and streaming the game. This caused numerous connectivity issues and harsh reviews on Steam. This also led to accusations of review bombing, which may or may not have been totally accurate. Since then, the server issues seem to have greatly improved and gamers continue to flock to the game. Even Dr Disrespect and PewDiePie recently teamed up for a stream of the game.
Aside from Fall Guys' addictive gameplay, one of the large components of the game's success has been its presence on social media. The game's official Twitter feed is full of audience interaction and jokes poking fun at the game itself and social media in general. With over 900,000 followers on Twitter alone and self-described "spicy tweets," Fall Guys has very quickly become one of the most entertaining game-related Twitter accounts to follow. Now if only TimTheTatman could catch a break (or even a Crown).