Proof That Call Of Duty Is Bigger Than GTA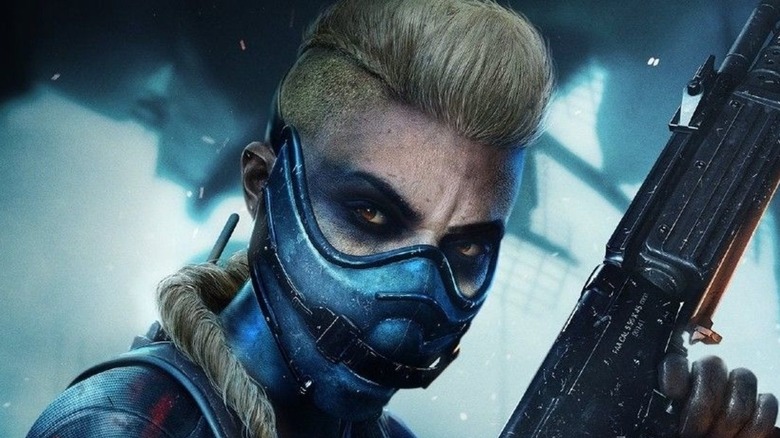 "Call of Duty" passed a major sales milestone recently, blowing past "Grand Theft Auto" in the process. Activision released a statement celebrating its sales figures and building anticipation for the launch of Season 3 of "Call of Duty: Warzone."
Activision stated that "Call of Duty: Warzone" surpassed 100 million players. For the fans out there who are more visual learners, Activision included an infographic explaining some other pertinent numbers, including the 28.8 billion matches gamers played and the 8.01 billion teammates who have been revived in battle since the game launched. With 26.4 billion parachutes deployed, the bleak city of Verdansk could be covered 136,442 times over, and Verdansk is no tiny village.
More impressively, Activision shared that "over 400 Million 'Call of Duty' premium games have been sold since the very first 'Call of Duty' launched back in October 2003, to the franchise's most recent release of 'Call of Duty: Black Ops Cold War' in November 2020." That's definitely big news worth celebrating.
Now, fans know for sure that "Call of Duty" is bigger than "GTA 5," at least in sales. As of 2020, "GTA 5" had sold over 130 million copies, and Take-Two announced earlier this year that "GTA 5" sold 20 million units or less each year since its release in 2013. That means it's numerically impossible for "GTA 5" to have sold more units than "Call of Duty." Of course, "GTA 5" is only one game in a series, while Activision's "Call of Duty" numbers appear to represent the entire franchise. Still, "Call of Duty" seems poised to eclipse "GTA 5" in popularity if it hasn't already.
For a time, "GTA 5" earned more money than any other form of media, making the creators behind the game very rich. However, the daily revenue generated by "Call of Duty" continues to be insane, fueled by a pandemic that left many stuck at home a good amount of the time. "Call of Duty: Warzone" has also taken some big swings, including a nuclear event that ended the battle royale's most recent season. Meanwhile, "GTA 5" continues to draw fans thanks to its creative player base. Things like the NoPixel roleplaying server, where popular streamers like xQc participate in wild antics, have brought a whole new audience to "GTA 5."
Most likely, "GTA 5" and "Call of Duty" will both continue being wildly profitable, bringing player numbers that are worth celebrating.