The Bizarre Reason DaBaby Was Just Banned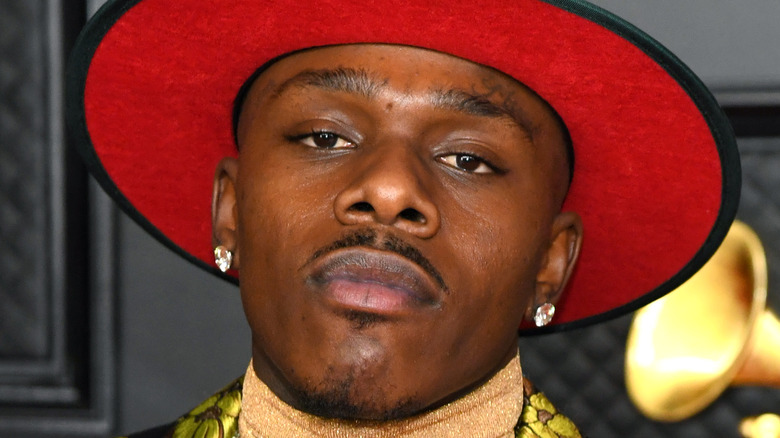 Kevin Mazur/Getty Images
A verified Twitch account purporting to belong to immensely popular and occasionally controversial rapper DaBaby was banned on May 19, adding another weird twist to the artist's apparent sudden appearance on the streaming service.
DaBaby, who was nominated for numerous awards at the 2021 Grammys and caused a stir with his performances, was recently spotted on Twitch by fans and soon began making appearances on high-profile streams. The first of these appearances was noted by Ninja, who saw DaBaby's account in his stream. Following that incident, Ninja even tweeted at the rapper, asking, "Were you in my stream or was it an impostor?" Fellow steamer CouRage responded to Ninja's question, noting that the account had also dropped in on TimTheTatman's chat feed as well.
A couple of visits by the mysterious DaBaby Twitch account were recorded, including one in which a visibly confused HasanAbi investigated the profile after it stopped by his channel to say "LET'S GO!" in the chat, evoking the rapper's catchphrase. Pokimane also got in on the fun, asking her crew to repeat the phrase in unison after she spotted the account in her chat.
However, it seems that Twitch has had enough of the questionable account and has permanently disabled it without explanation.
Was DaBaby really on Twitch?
Without any official comment from DaBaby himself, it seems unlikely that the artist was ever really behind the Twitch account. The setup was convincing enough at a glance, managing to both become verified by Twitch and amass almost 16,000 followers. But, as viewers can see in HasanAbi's clip, the account never featured any meaningful content from the rapper himself.
Beyond that, fans on Reddit dug a little deeper and found that the channel purporting to be DaBaby once had the username UseCodeNicc. Others in that conversation noted that streamers and other gamers are sometimes offered free partnered accounts on Twitch, whether they use the service or not. This means that someone could have taken an inactive partnered account and then used it to create a convincing fake Twitch channel for DaBaby.
That said, it certainly isn't unusual for high-profile figures to set up Twitch accounts, both musicians and otherwise. T-Pain has used his channel to destroy toxic "Call of Duty" players, while Alexandria Ocasio-Cortez set a new record on Twitch when she joined Pokimane and HasanAbi to play "Among Us." However, what makes those accounts different than the supposed DaBaby account is that those individuals have actually appeared on the channels bearing their names.