Resident Evil Village: Lady Dimitrescu Is A Real Person, And She's Gorgeous In Real Life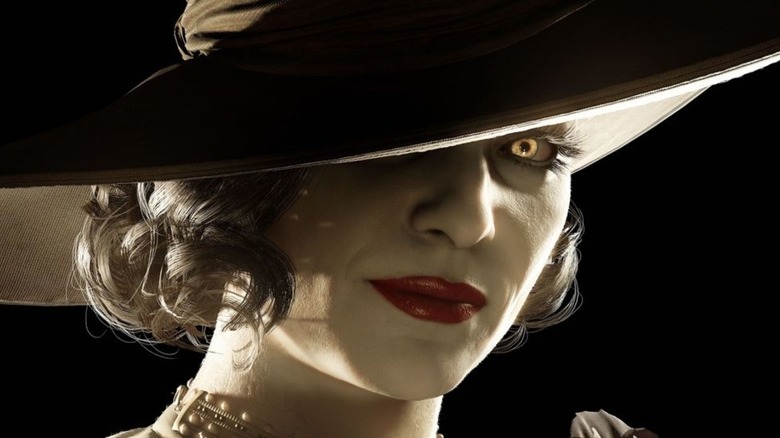 Lady Dimitrescu has taken the gaming world captive — even if you're not a "Resident Evil Village" fan, you can't escape the dominating presence she's had on the community. There's been so much attention paid to the beautiful vampire that Capcom released more specific details about her ahead of the game's release, including her actual height and even her shoe size. Now, the lovely Lady's real-life face model has been revealed, and she's absolutely gorgeous.
On May 15, Helena Mankowska revealed in an Instagram post that she served as the face model for Lady Dimitrescu. Not only did she have her face digitally captured for the game, but she also decided to cosplay the infamous villain for a glamorous photoshoot — and the results are stunning. As if the graphics of "Resident Evil Village" weren't already realistic enough, now you can see the actual Lady Dimitrescu portrayed by, well, herself. It's as awesome as it is terrifying.
The big Instagram face reveal
Helena Mankowska knew what she was doing before she revealed that she was the face model for Lady Dimitrescu — in fact, she had fans on the edge of their seats before her announcement. In three different Instagram posts, Mankowska posted an all black image with captions that chained together to read "wait for it."
Then, when she posted silhouettes of her cosplaying as Lady Dimitrescu, fans truly went wild. In fact, the likes on her Lady Dimitrescu pictures were astronomical compared to her other pictures. The last pictures she posted before any "Resident Evil"-related things brought in a decent amount of traffic and likes from fans, but the Lady Ds pictures soared into the 15,000s. She also received a ton of support and love in the comments. She wrote that she saw the "Resident Evil" fan community as "a family that has welcomed me with so many kind words."
While Lady Dimitrescu may be her latest claim to fame, you may be surprised to learn that Mankowska does a lot more than just face modeling. In fact, she's come close to the "Resident Evil" franchise with her work as a stunt double, as well.
Imagine Lady Dimitrescu as a stunt double
Helena Mankowska wears many hats, just like Lady Dimitrescu. The Polish model is also an actress and a stunt double. In fact, she actually worked as a stunt double for none other than Milla Jovovich in the movie "Paradise Hills." Sound familiar? Hardcore "Resident Evil" fans likely know Milla Jovovich best as the star of the "Resident Evil" film series. This means Mankowska was already one degree separated from "Resident Evil" before she properly joined the franchise.
"Paradise Hills" appears to be Mankowska's only stunt work credit. However, she's worked on several short film projects as an actress, and she's also appeared in multiple movies, including "Two Faces."
Interestingly enough, it appears as though the inspiration for Mankowska's turn as Lady Dimitrescu could have come from her past work. In an Instagram post from four years ago, Mankowska showed off a stunning side profile of her face, wearing a large-brimmed hat that looks suspiciously close to Lady D's look. Even if this is a coincidence, it's easy to see why Capcom would choose her to be the memorable villain's face model.