You Can Finally Bring These Streamers Home With You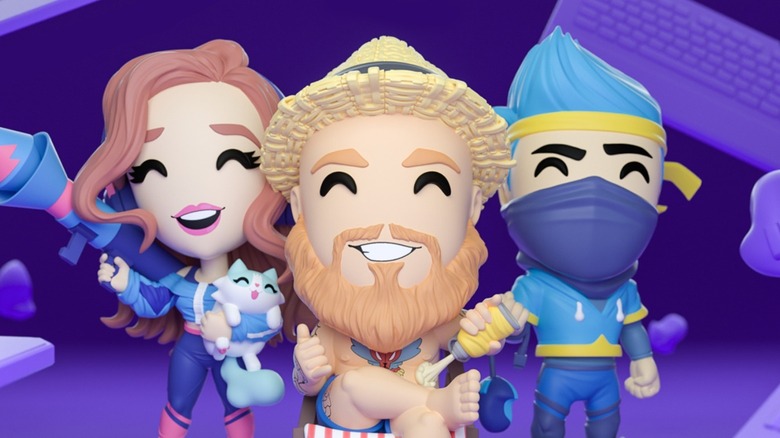 Over the years, streamers have become a very significant element of the gaming industry, from the likes of the Twitch-banned Dr Disrespect to YouTube's PewDiePie, who has delved into non-gaming trends like those regarding TikTok. These streamers, and more, have proven their popularity by raking in insane amounts of revenue, even in the face of very expensive streaming operations. And for the biggest fans of a few select streamers out there, toy manufacturer Youtooz will be releasing four special items to its catalog in June.
In collaboration with Twitch, Youtooz, the toy manufacturer behind the line of Funko Pop-like action figures, will release four action figures resembling real-life streamers in its Twitch Legends line of figures. These include Timothy "TimTheTatman" Betar, Imane "Pokimane" Anys, Forrest "KreekCraft" Waldron, and Ninja, otherwise known as Richard Tyler Blevins. Each of the four figurines can currently be pre-ordered on Youtooz's official website, with Youtooz providing a bit more information in its announcement of the TimTheTatman, Pokimane, and Ninja action figures.
According to the press release, Youtooz states that the toys will be available for pre-order until June 12 at $30 each. All of them are limited-edition, and according to their descriptions on Youtooz's website, while KreekCraft's Youtooz iteration will ship in early October, the remaining three will ship in November.
Sizing up the Twitch Legends line
All of the action figures stand at somewhere around five inches tall and appear as cartoonish versions of their real-life counterparts, with each holding some type of object that would be tied uniquely with them. For instance, the Pokimane action figure is holding a cat that looks much like her real-life cat, and Ninja's toy model is holding a mouse, which fits his preference for it in "Fortnite" on PC.
For those not quite interested in this lineup of Youtooz action figures but still interested in adding more to their collection, Youtooz has released other gaming-related action figures before. For instance, the company released action figures of Banjo and Kazooie as well as Bottles of the "Banjo-Kazooie" series. Yet, they have also taken to making non-gaming toy replicas, both fictional and real. For instance, while Youtooz released an action figure based on the Thinking Emoji, it is also releasing a Soulja Boy replica, which is set to ship in late August.
For the most hardcore of streaming fans out there, these could be well worth adding to your collection. There are many ways to display fandom, with one of those being the ownership of items like these figures by Youtooz.