There's Already A New PS5 On The Way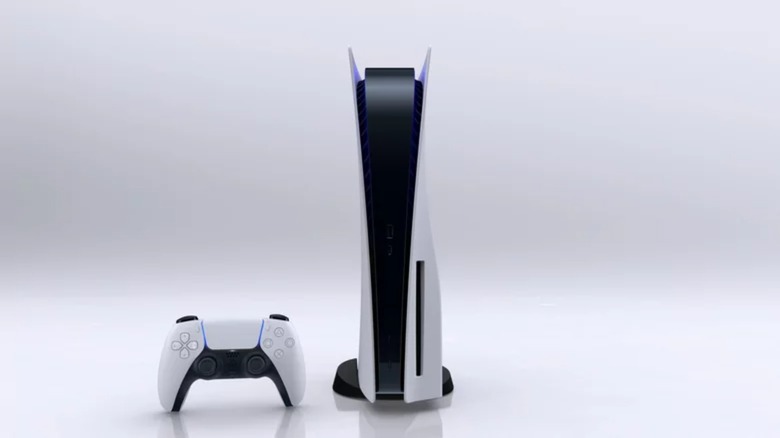 Let's face it: It might be easier stumbling onto the Holy Grail than finding a PlayStation 5 in the wild — especially one that hasn't been marked up by scalpers. The console, which released to critical fanfare in November 2020, has been nigh-impossible to find in stores. Even so, it appears that Sony is ready to start tweaking its hardware in anticipation of a newer model of the console. Don't get too excited, though — this isn't the mythical all-black PS5. In fact, as exciting a prospect as a new version of the PlayStation 5 might be, gamers who snag one might not even realize it based on how miniscule its changes to the original hardware are.
As revealed by business analyst Roberto Serrano on Twitter, a new PlayStation 5 model has been registered to Peru's Audits and Sanctions in Communications website. In his May 27 tweet, Serrano wrote, "New #PS5 model CFI-1115A spotted in the latest Wireless communication module M20DAL1 registered by Sony Group Corp." He explained that this "suggests a revision of PS5 is coming sooner or later, already registered on May 23, 2021."
Again: That might sound exciting at first glance, but, as reported by VGC, an improved wireless communication module won't change much for the average player. In fact, the new hardware in question will really only improve antenna gain — basically, a determination of how strong a wireless signal can be sent or received in a given direction.
Improved wireless technology is cool and all, but it's not exactly the changes that PlayStation fans were asking for.
Fans are begging for these PlayStation 5 changes
Shutterstock
While new hardware can go a long way toward improving players' experiences with a console, souped-up tech isn't the be-all-end-all of pleasing die-hard gamers. In fact, Sony fans don't seem very concerned with the PlayStation 5's insides. That said, their wishlist is ... well, it's extensive.
Backwards compatibility is a biggie for PlayStation fans. While the PS5 can currently play around 99% of PlayStation 4 games, the jury's still out on when — if ever — PS1, PS2, and PS3 titles will receive the same support. In a September 2020 interview with Japanese gaming site Famitsu (translation via Siliconera) Sony Interactive Entertainment CEO Jim Ryan explained that extended backwards compatibility was eschewed in favor of focusing on the PS5's blazing-fast SSD and its haptic feedback-based DualSense controller.
Then, there's the PS5's controversial color scheme. When the console was originally revealed way back in June 2020, the internet had a meme-filled field day with its massive, curvy, two-toned look. And while some fans liked the wireless-router-jammed-inside-of-a-white-binder aesthetic, others wished — and still wish — for an all-black alternative (or, at the very least, custom faceplates).
All in all, it might not be a DualSense stick drift fix — but an improved wireless module means that Sony is already beginning to alter and improve the PlayStation 5's tech, and that could mean that big things are on the horizon.