You Can Fly With Pikachu, But There's A Catch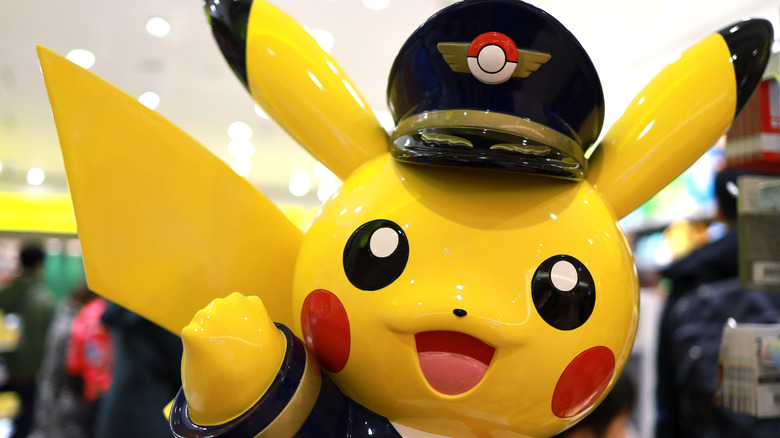 Shutterstock
It's a bird, it's a plane, it's...Pikachu! Thanks to a big reveal by The Pokémon Company today, fans now know they can soon take a flight on a Pikachu-themed jet in honor of the franchise's ongoing 25th anniversary celebrations. The catch? Everyone's favorite electric type is only taking to the skies in Japan — for now.
As reported by IGN, The Pikachu Jet BC was a collaborative effort by The Pokémon Company and Skymark, a budget airline in Japan. It set flight today from Haneda airport in Tokyo to Naha Airport in Okinawa. Though only "Pokémon" fans in Japan can experience the decked-out Pikachu plane, more of its type are on the way. If you're in Singapore, get excited, because another "Pokémon"-themed jet is in the works for budget airline company Scoot.
Both the outside and inside of The Pikachu Jet BC are decked out in celebratory Pikachu-themed fabulousness. The plane's yellow exterior is accented with a bunch of cheerful Flying Pikachus holding balloon bouquets. The blue tail features the "Pokémon" logo and a big, yellow star, and Pokéballs are also scattered across the aircraft. The plane interior is complete with Pikachu-themed headrests, refreshments, accessories, and even flight attendants rocking Pikachu scarves. Plus, the 25th row features a special Pikachu balloon design to honor the quarter-century anniversary of the franchise.
Pokemon Air Adventures and Anniversary Festivities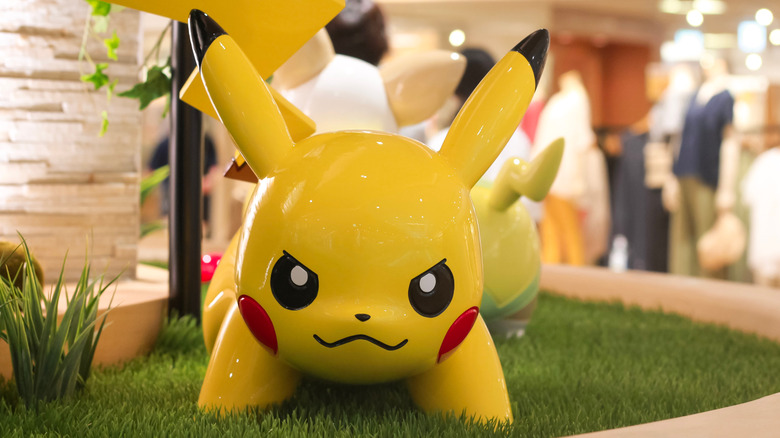 Shutterstock
Not only is this plane a celebration of the "Pokémon" franchise's 25th anniversary. It's part of Pokémon Air Adventures, a tourism campaign for Japan's tropical Okinawa prefecture, which has been described by The Pokémon Company as "an initiative started in Japan that helps create wonderful travel memories." Across the scenic region of islands, fans can also find Pikachu buses and monorails, as well as four unique "Pokémon" manholes (but don't go into the sewer looking for Grimer and Muk).
But wait, there's more: Starting July 22, "Pokémon Go" players in Okinawa can also catch a limited-edition Pikachu in Kariyushi wear, a popular summer style in the region. Additionally, shiny Corsola will be around indefinitely in "certain regions," most of which will probably be tropical areas where the standard version appears. It's a good time for a Pokemon trainer to make some vacation plans.
Believe it or not, this isn't the first "Pokémon" jet. Between 1998 and 2016, there were a number of themed Poké-planes that graced the skies with their cuteness. However, the new plane is currently the only one of its kind operating commercially. As Skymark Airlines put it, the goal of this new Pikachu plane is for "everyone to look to the skies with a smile on their face." Mission accomplished!
The Pokémon Company has done quite a bit for the 25th anniversary, with new games in the works to a fashion line to tea sets and more, so even though Japan is closed to international travel for now, there are plenty of ways to celebrate.