This Resident Evil Village Mod Introduces Ethan's Biggest Fan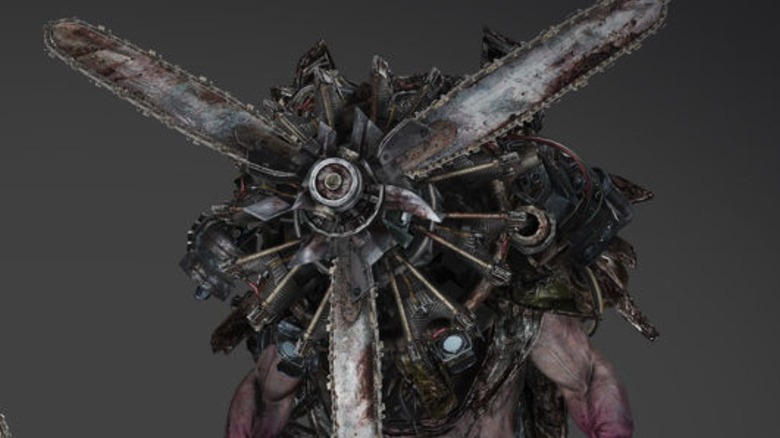 Somewhere amongst all of the horrific monsters in "Resident Evil Village," there's a man with a giant propeller for a head. Shortly after the release of "Village," filmmaker Richard Raaphorst accused Capcom of plagiarizing designs from his movie "Frankenstein's Army," including that of the propeller-headed henchman named Sturm. While Raaphorst hasn't filed an official claim against the developer — unlike artist Judy A. Juracek, who had similar claims against Capcom — some gamers might feel a bit weird about playing a game containing a monster that might violate copyright laws. Now, they no longer have to worry.
As usual, a modder has stepped in to save the day. Over on Nexus Mods, Pumpkinhook has uploaded Copyright Free Sturm, a mod that removes pretty much all of the similarities between Raaphorst's design and the character in "Resident Evil Village." Instead of a muscular man with a propeller head, Pumpkinhook's mod turns Sturm into a giant standing fan. You know, like the oscillating kind you'd have in your house.
The mod's description cheerfully claims, "This mod replaces Sturm with a brand new fan!" As advertised, the mod indeed replaces Sturm with a copyright-free standing fan, eliminating any guilty feelings. It also serves as a silly way to change one of the scarier monsters in the game into something more inviting.
The modding community is doing just great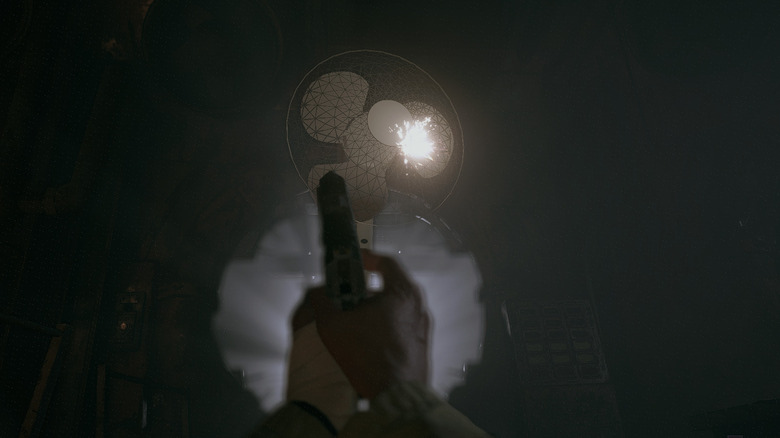 Of course, "Village" protagonist Ethan Winters doesn't seem to think the new and improved Sturm looks all that friendly. In a video of the mod in action (via IGN), Ethan still treats Sturm as he would the original model, running in terror and firing countless rounds of ammo at the household appliance. The contrast between a common fan spinning harmlessly while Ethan Winters runs in panic feels jarring, but hilarious.
"Resident Evil Village" already has a thriving mod community, with some of the mods being creepier than the base game itself. Some fans just wanted to watch the world burn by introducing the notorious Mr. X from "Resident Evil 2" into "Village," while others wanted to take Lady Dimitrescu out of "Village" and insert her into a host of other games. It's true that Lady D makes games better, but that doesn't mean she's any less scary in games where she doesn't belong. And of course, the most cursed mod for "Resident Evil Village" might be the one that turns Chris Redfield's head into that of a giant baby. Sometimes the modding community really outdoes itself.
While there's still no word if Richard Raaphorst will pursue litigation against Capcom, it's good to see the "fan" community taking matters into their own hands, and having some fun along the way.