The Hilarious Way Fortnite Trolled Dataminers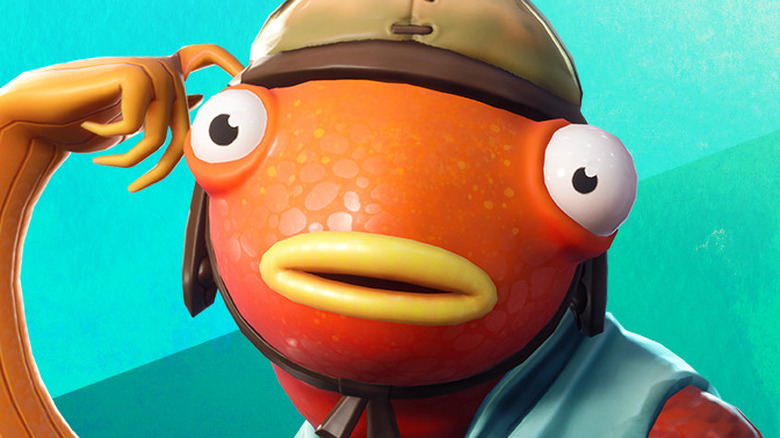 A large amount of "Fortnite" news comes from dataminers who have dug up details in the game's code. Previous leaks from the popular battle royale have included the artist for the biggest "Fortnite" concert ever, the Rift Tour, and a huge variety of DC comics teams. Based on this trend, "Fortnite" allegedly decided to mess with dataminers earlier this year by planting the ultimate red herring.
Back in February, known "Fortnite" leaker @HYPEX posted images reportedly extracted from "Fortnite" depicting Peter Griffin from "Family Guy." The images spawned general confusion, with individuals like Paul Tassi of Forbes speculating about how Epic could even fit the animated show's protagonist into the game.
Months later, another "Fortnite" leaks account, @FNBRUnreleased, dropped a bomb on fans and dataminers alike, tweeting: "Family Guy being inside the game files was a joke by Epic to troll leakers." According to a follow up message, Epic supposedly planned the move a year prior.
Fans were split by the apparent revelation that "Family Guy" would not join the growing list of "Fortnite" crossovers.
Epic's alleged prank left Fortnite players divided
As highlighted by one Twitter user, "Family Guy" has earned a mixed reputation for what some view as racist content. While others were quick to defend the choices made in the show, it's clear that many people would not see Peter Griffin as a welcome addition to "Fortnite."
Others shared memes highlighting their disappointment, including a picture of Mort from "Madagascar." A different individual was determined not to believe the allegation that the leak was a joke, saying, "nothing can change my mind."
Even if Epic Games used "Family Guy" to troll leakers, this might not be the end of the line for the crossover. One potential leaked feature could allow players to mod the game, which might serve as an indirect path for Peter Griffin and other pop culture characters to make an appearance.
This wasn't the first time this month that "Fortnite" leaks were shut down. Just a few days ago, "Among Us" broke its silence on rumors that the two games had a collaboration in the works. The initial speculation also spawned due to supposed datamines performed by @HYPEX.