The Best Moments From The First-Ever Stardew Valley Cup
The bucolic life simulator "Stardew Valley," a fan-favorite RPG and board game, recently hosted what might be the coziest esports event ever with the first-annual Stardew Valley Cup. Four teams were formed from some of the best known "Stardew Valley" streamers and speedrunners to enter the Ferngill Republic, and they competed against one another in a live event hosted on Twitch.
So how did the event organizers turn a famously noncompetitive game into a four-way battle for achievements with a point scoring system? ConcernedApe turned to Unsurpassable Z, a "Stardew Valley" streamer, who created an in-depth point assignment chart for nearly 100 different in-game accomplishments. Players would then work together to achieve the highest point total on a co-op map over three hours.
ConcernedApe financed the Stardew Valley Cup with a $40,000 prize to legitimize the competition, of which $28,000 was dedicated to the winning team. That meant that each player on the team that managed to bank the most points over a few hours of high-level "Stardew Valley" play would be walking home with $7,000.
The competition was a success, bringing the same level of hospitality and wholesome interactions associated with the game and its community to a higher-stakes exhibition. While things were pretty closely matched, there could ultimately be only one winning team. Here are the best moments from the first Stardew Valley Cup.
A tight race that was too close to call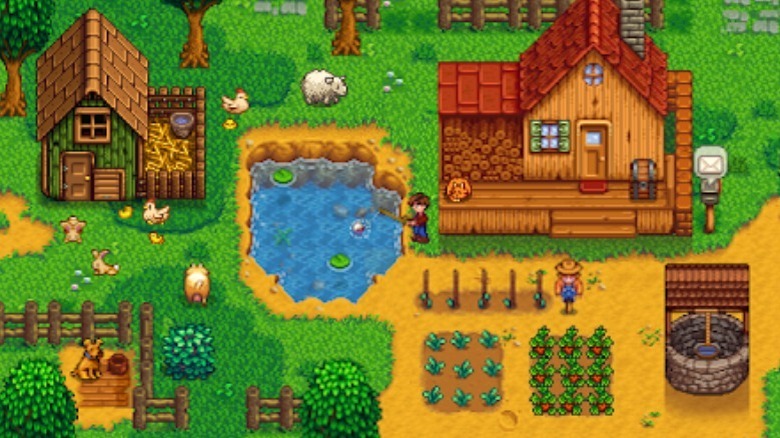 Chucklefish
For the most part, many of the nearly 100 or so challenges were worth just a handful of points. In Unsurpassable Z's YouTube announcement video, he spent a lot of time detailing the challenges and their value, which generally ranged from 5 to 20 points. As that video was released about two weeks ahead of the competition, each team had plenty of time to devise a strategy to try and take first place
However, when the event started, Unsurpassable Z announced the big twist. Every half an hour, a new challenge would be revealed that would be worth a game-changing 50 points, in an attempt to lure teams off their predetermined strategy and add some variety into the competition.
Sadly, almost every team chose to forgo those possible extra points, as ConcernedApe noted on his Twitch commentary. The only team to complete a 50 point challenge was Sandy's Candies, who had the highest point total in Junimo Kart, although those points were not bankable until the very end. The lack of high scoring throughout the competition meant that when Unsurpassable Z called time, neither he nor ConcernedApe had any idea who might be in the lead.
TheHaboo takes out his greenscreen in victory
As Unsurpassable Z and ConcernedApe waited for the official point tally to be compiled and results to be returned, they passed the time casually discussing questions that had come up in the Twitch chat.
When the moment finally came, ConcernedApe took the lead in revealing the winners and the losers on Twitch. Starting from the bottom, Krobus' Crocuses ended in fourth place with 466 points, Pam's Yams took third with 519 points. After a brief pause, ConcernedApe revealed that Sandy's Candies had taken first with 661 points, while Pierre's Cherries had ended in second with a respectable 597 points.
While ConcernedApe and Unsurpassable Z were visibly pleased that the Stardew Valley Cup had been a success, the real excitement was on the other side of the screen. Every competitor had streamed their session on Twitch, as can be found on the "Stardew Valley" forums, and Sandy's Candies team leader, TheHaboo, was exceptionally jubilant when he learned that he was victorious.
When ConcernedApe announced that Sandy's Candies was the winner, TheHaboo jumped out of his seat, apparently accidentally knocking over the greenscreen he used to stream before delivering a solid blow that sent the whole thing to the ground. Thankfully, with at least $7,000 in prize money to claim, TheHaboo should be able to afford a new background.