Ninja's Latest Rage Quit Had T-Pain Cracking Up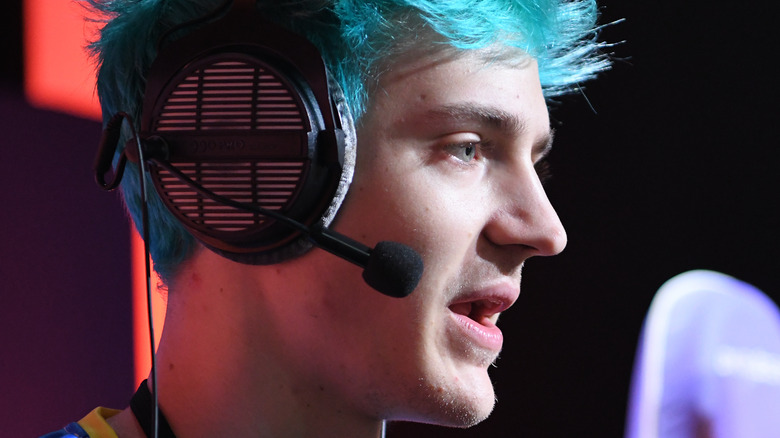 Robert Reiners/Getty Images
A humorously heated game of "Overcooked 2" between T-Pain and BigCheeseKIT versus Ninja and his wife Jessica ended up leading to a hilarious rage quit that gave T-Pain and BigCheeseKIT a serious case of the giggles.
In a clip titled "T-Pain and BigCheeseKIT make Ninja rage quit his marriage," fans saw all the drama unfold as Ninja got fed up with Jessica not washing the plates in-game. Clearly, "Overcooked 2" had some learning curves for the "Fortnite" pro, and Ninja was not having it. "We can win this, give me a plate," the streamer insisted. "The plates are in the sink," Jessica replied as Ninja grew increasingly frustrated, yelling "Hold A! Hold the button down and clean them!"
Meanwhile, T-Pain and BigCheeseKIT started cracking up as the playful rage increased, until a warning appeared on the screen that Jessica had been removed by the host. In her words, "I've been removed by the host? Was that you, Tyler?" Tyler feigned ignorance, to which Jessica doubled down, responding "Did you f***ing yeet me out of the game?" By that point, the fellow streamers were totally in stitches and out of their chairs, with T-Pain falling to the ground and BigCheeseKIT jumping up and down, both laughing as hard as possible. Fans had access to Ninja's perspective of the event in addition to the full T-Pain stream with BigCheeseKIT, giving viewers a chance to see all sides of the incident. While some gamers might find this streaming foursome unexpected, T-Pain, BigCheeseKIT, Jessica Blevins, and Ninja make sense as a gaming team.
Streaming's silliest sensations
Clearly, these four are hilarious together. For those not in the know, T-Pain streams as President and CEO of Nappy Boy Gaming which falls under the umbrella of his company and record label Nappy Boy Entertainment. BigCheeseKIT is also an entertainer and member of Nappy Boy Gaming. Ninja also has a broad presence in entertainment, and recently appeared in the film "Free Guy" alongside Ryan Reynolds, in addition to his continued streaming success. Jessica Blevins, Ninja's wife, has also had success in streaming, and she works as her husband's manager. All that to say, this star-studded group brought all the energy and fun they're known for independently into one intensely funny game of "Overcooked 2."
Though "Overcooked" games have the potential to ruin friendships, they can clearly do the opposite as well. This isn't Ninja's only rage quit — as the streamer recently had a similar experience with "League of Legends" – though it has to be his funniest. Ninja's dramatic approach to "Overcooked 2" is comically entertaining, as the star also got frustrated and said he'll never play "Fornite" again earlier this year, though that didn't last long. T-Pain has also grown a following for his humor, and has been known to troll his own trolls. All eyes are on T-Pain, Ninja, BigCheeseKIT, and Jessica for another stream, and gamers have their fingers crossed.