FIFA 22 Just Removed This Controversial Character From The Game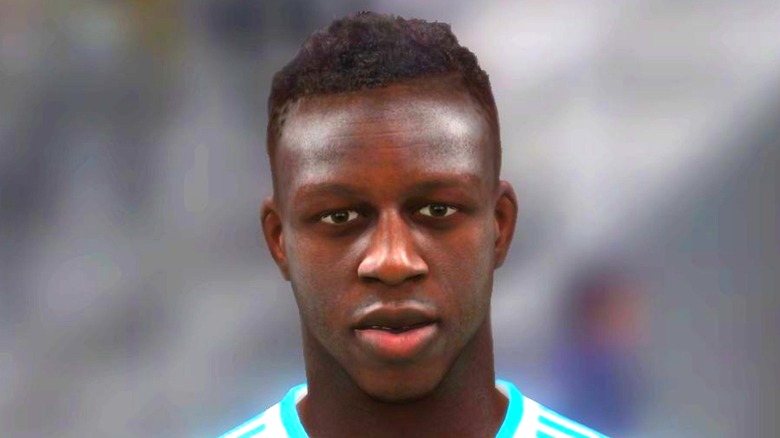 Fans of the "FIFA" franchise, (or sports games in general), know that sometimes a character has to be pulled from a game due to real world events. It doesn't happen often, but sometimes it's the only appropriate response after an individual does or says something that makes it impossible for the publisher to continue a working relationship with them. Manchester City's left-back Benjamin Mendy was arrested and charged with four counts of rape and one count of sexual assault on August 26. He was then suspended, pending an investigation by the football team the very same day. Now, EA is officially removing him from "FIFA 22" while he is awaiting trial. An EA representative provided a statement to Eurogamer that explained, "As Benjamin Mendy has been removed from the active rosters of both Manchester City and the French National team, in FIFA 22 he has also been removed from respective rosters and suspended from appearing in FIFA Ultimate Team (FUT) packs and Ultimate Draft while he is awaiting trial."
This isn't the first time EA has had to remove a character from one of their games. Marco van Basten was removed from "FIFA 20" after performing a Nazi salute during an interview, and Bleacher Report stated that Adam Johnson was removed from "FIFA 16" after being found "guilty of sexual activity with a 15-year-old." Mendy's case is unique in that he is being removed from "FIFA 22" before it's even released. Fans shared their reactions to the incident online, reflecting on how Mendy's removal will impact the game.
Fan reactions to Mendy's removal
This latest news is coming at a bad time for EA. "FIFA 21" received a lot of bad press due to the company's growing reputation for shady deals, loot boxes and microtransactions that ended up resulting in a class-action lawsuit in the US District Court of Northern California. Additionally, EA is also starting to see a lot more competitive pressure from Konami's "Pro Evolution Soccer." It seems like the publisher really needed a win right now, and its new release is already off to a rocky start due to real-world events surrounding the sport.
Many fans were quick to praise EA for removing Mendy. Twitter user @KnightGriever tweeted, "Nice move by EA" with a clapping hands emoji. Others criticized the company for taking nearly a month to remove him, like @mollieandarchie, who tweeted, "why wait so long?" and Reddit user ASR_Dave who wrote, "this is awesome, should've been to begin with. Well done EA." Still more fans have brought up players Cristiano Ronaldo and Gylfi Sigurdsson, two men who will have characters featured in "FIFA 22" and who have also faced legal allegations, but remained in the game. @IWSaint tweeted, "Sigurdsson and Ronaldo next," supporting EA's decision to remove problematic players from the game. It's difficult to say why EA chose to remove Mendy when it did or what criteria he met that Sigurdsson and Ronaldo did not. Mendy will appear at court on November 15 and his trial date has been set for January 24.