Nickelodeon All-Star Brawl Team Reacts To Latest Character Leak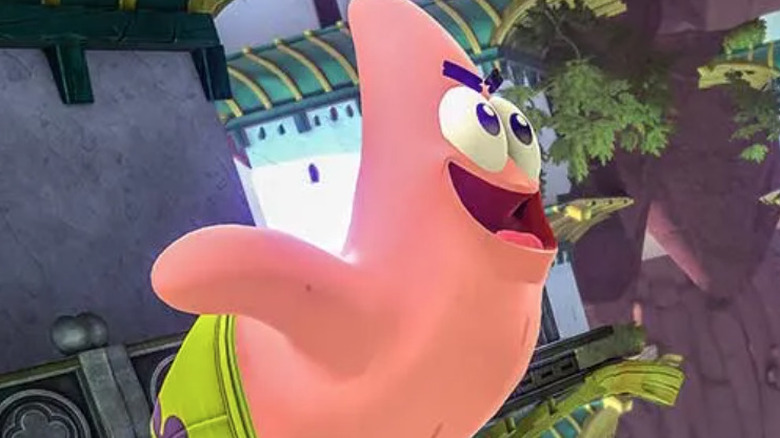 "Nickolodeon All-Star Brawl" didn't even need one day to begin springing multiple leaks. After the game's launch on Oct. 5, dataminers have already found what could be future characters hidden in the game's code. The leaked files referenced classic characters like the Shredder from "Teenage Mutant Ninja Turtles," Garfield, and other licensed fighters that seem to be on their way to the game.
One file contained an unfinished design for Shredder as he appeared in the original "TMNT" animated series, complete with cheese-filled filenames (an odd detail for a villain who isn't usually associated with cheese). Another file showcased an unreleased stage with floating candies and a grayed-out image of Garfield in the background. Other notable finds include leaked voice lines referencing characters such as Jimmy Neutron, Tommy Pickles from "Rugrats," and Zuko from "Avatar: The Last Airbender." However, it should be noted that these are voice lines from the announcer saying the characters' names before battle, not the characters speaking themselves.   
Word travels fast, so it's no surprise this information quickly spread to Twitter, Reddit, and other social media platforms. In response, one of the community managers directly addressed the leaks.
The Nickelodeon leaks might not mean anything (yet)
Thaddeus Crews, one of the programmers and character designers behind "Nickelodeon All-Star Brawl," reportedly talked to fans about the leaks in the game's official Discord. As it turns out, the dev team for the game was worried about this very thing happening. "Brought up concerns of data mining and was told content would be removed," Crews wrote (via Kotaku). However, it seems like the files weren't removed as promised. 
It's unclear who was responsible for removing the content and which content was specifically supposed to be removed. Either way, Crews warned fans that the leaked files were only there to "cover bases" and aren't definitive "be-all-end-all confirmations." Crews mentioned that there were some unfinished parts to the base game that didn't make it to launch, so while the leaked content and characters might eventually come to the game, nothing is set in stone. Additional content, such as DLC, reportedly hasn't been worked on at all.
Just a couple months ago, fans were still sniffing out who the upcoming characters in the game could be. Many of these, like a handful of "Avatar: The Last Airbender" characters, ended up being real. However, those were based on box art guesses and not datamined files. 
Those interested in playing "Nickelodeon All-Star Brawl" instead of investigating leaks can do so on PC, PlayStation 4, PlayStation 5, Xbox One, Xbox Series X|S, and Nintendo Switch.