Nickelodeon All-Star Brawl Has The Last Airbender Fans Going Wild
Nickelodeon Animation Studio
Ever since fans started going crazy over Nickelodeon's upcoming "Nickelodeon All-Star Brawl," many have wondered what characters could make it to the final release. After recent speculation that Aang and Korra from the "Avatar: The Last Airbender" universe might be the next "Nickelodeon All-Star Brawl" characters, a leak from Nintendo effectively confirmed the two Avatars will likely make an appearance in the game.
As pointed out by Twitter user Eternal Flame Guy, Nintendo accidentally leaked the information on the Nintendo eShop when artwork of the game was posted to the website. The artwork contained several unannounced fighters from "Nickelodeon All-Star Brawl," including the Avatars known as Aang and Korra, and Ren and Stimpy, the cat and dog duo from the 90s show of the same name.
The artwork leaking this information has seemingly been removed from the Nintendo eShop, replaced with a cover image that does not include Aang, Korra, Ren, and Stimpy. This could suggest that gamers will see Aang save the world (or fight other Nickelodeon characters) when "Nickelodeon All-Star Brawl" launches this Fall. Neither Nickelodeon nor developers Ludosity and Fair Play Labs have confirmed these leaks. However, just because Aang and Korra haven't been officially revealed yet doesn't mean there's nothing for fans to get excited about.
Nickelodeon's gift that keeps on giving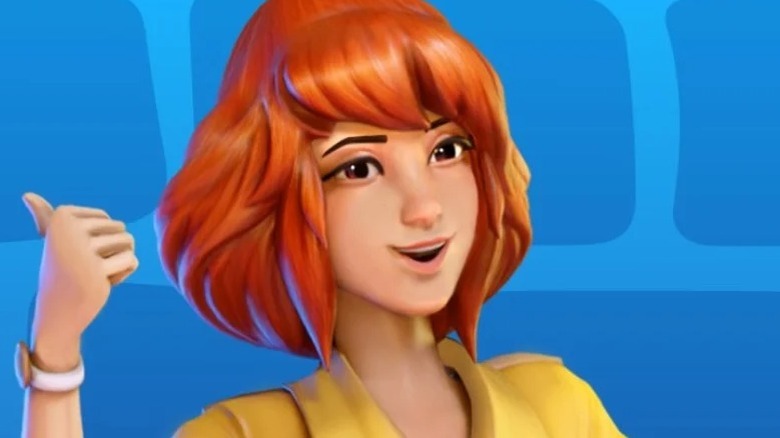 As it stands, "Nickelodeon All-Star Brawl" has a killer roster of fighters from a broad swathe of Nicktoons. In August, the game's showing at the Summer Games Fest gave fans two more reasons to play "Nickelodeon All-Star Brawl:" CatDog from the "CatDog" series and April O'Neil from "Teenage Mutant Ninja Turtles." 
In addition to O'Neil and CatDog, the full roster of "Nickelodeon All-Star Brawl" includes at least 14 other fighters. For the most part, all of the fighters are very recognizable, with the game's artwork prominently featuring SpongeBob SquarePants. The game will feature fighters from "The Loud House," "Hey Arnold!," and "Rugrats," as well as other "SpongeBob" characters, more of the "TMNT" cast, and Danny Phantom. "Nickelodeon All-Star Brawl" is currently set to launch October 5, 2021, on Nintendo Swtich, PC, PlayStation 4, PlayStation 5, Xbox One, and Xbox Series X/S.
For fans of the "Last Airbender" franchise who don't want to enter the fight, an "Avatar" tabletop game destroyed its Kickstarter goal and will begin development soon. Between the tabletop RPG, the tentative Korra and Aang appearances in "Nickelodeon All-Star Brawl," and a live-action show currently in the works, there is plenty to look forward to for "Last Airbender" fans.