This Xbox Accessory Costs More Than A Console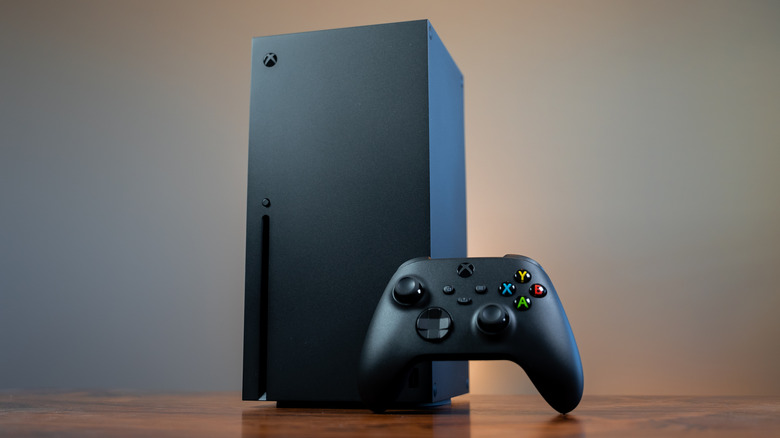 Alex Van Aken/Shutterstock
We may receive a commission on purchases made from links.
It's no secret that consoles are expensive as can be, and these past few years have definitely cemented that idea in gamers' minds. 2020 saw massive shortages for next-gen consoles including PS5 and Xbox Series X|S. Things got so bad that Xbox head Phil Spencer had to apologize to eager Xbox fans who couldn't get their hands on the latest Microsoft console.
Advertisement
Even now in 2022, snagging the latest Xbox is not a guarantee. Microsoft has recently halted Xbox One production to focus on pushing on Series X|S consoles, though retailers are still often out of stock of the latest console. So, for those who do get a chance to make the $499.99 investment in the Series X or the $299.99 investment in the Series S, they'll likely want to protect it.
However, it's a double-edged sword. As appealing as accessories can be for an eager new Xbox owner, a lot of them are completely overpriced. From $499 headsets to $219 expansion cards and much more, there are plenty of pitfalls that players can stumble into and end up spending extra money on Xbox accessories. While many gamers would rather save up the big bucks for games after making a big console purchase, some people are spending unbelievable amounts of money on bells and whistles. Namely, there's a super expensive Xbox Series X|S case on Amazon that actually costs more than the Series S console itself.
Advertisement
This Xbox case costs over $300
With an uncanny resemblance to a fishing tackle box, the Nanuk 938 Waterproof Hard Case comes with a foam insert, wheels, and the capacity to store any Xbox Series X|S console plus two controllers, four controller batteries, games, headsets, and anything else that fans want to protect. As impressive as this "waterproof, dustproof, shockproof" case looks on the outside — and the inside, for that matter — the $376.95 price tag is a bit tough to buy.
Advertisement
Even with an "automatic purge valve" that "equalizes pressure on the inside of the case when travelling," a super tough NK-7 resin shell, and Powerclaw latches, the Nanuk 938 case sells at a ridiculously high price point. It's especially hard to imagine spending so much when there are other waterproof hard cases for under $150, as well as other non-waterproof options under $60. Considering that Xbox consoles are in short supply, it definitely makes sense for gamers to want to protect their goods while staying stylish.