This Publisher Just Took A Shot At Sonic Origins
Sega
Sega formally announced a remastered collection of four classic Sonic the Hedgehog games in April, 2022. The collection, dubbed "Sonic Origins," will be released on June 23rd, and includes revamped versions of the original "Sonic the Hedgehog," "Sonic the Hedgehog 2," "Sonic 3 & Knuckles," and "Sonic CD." While that sounds exciting for both long-time fans and those wanting to experience the Blue Blur's first outings on modern hardware, the announcement fell flat on its face.
Following the collection's reveal, Sega showed a disastrously busy chart detailing confusing, multiple tiers of pre-order bonuses and DLC packs. As you could probably guess, this has done nothing but upset fans. Not only have there been complaints about the paywalls to additional content and demands for Sega to make changes, but video game publisher Devolver Digital saw the fiasco as a cheeky opportunity to promote an upcoming title of its own.
Trek to Yomi cuts deep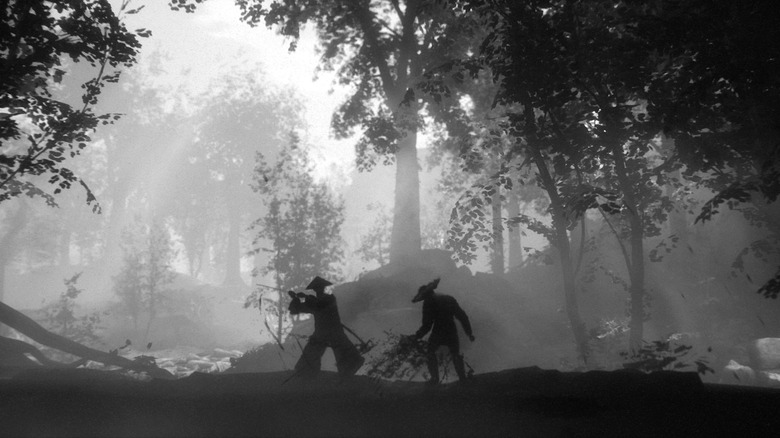 Devolver Digital Inc.
In its unpopular chart, Sega showed that the "Sonic Origins" standard edition doesn't include any of the fun additions prepared for this remaster. Additional music tracks, harder versions of missions, new animations, and more are unevenly split up between three different DLC packs and, of course, a Digital Deluxe Edition. The standard edition has the remastered games, and that's it. 
Well, Devolver Digital also released a chart that, in its own words, is a "handy guide for preordering 'Trek to Yomi.'" This guide shows that no matter what platform you purchase "Trek to Yomi" on, all of the content is the exact same. According to Devolver Digital, some of those bonuses include the "Trek to Yomi" base game, stunning visuals, a remarkable soundtrack, and even full credits at the end. One publisher's loss is another's gain. 
While it didn't call Sega or its hedgehog mascot out specifically, it's obvious that Devolver Digital was pointing out just how ridiculous the "Sonic Origins" announcement became. Due to the enormous amount of negative feedback there will undoubtedly be a sour taste that follows "Sonic Origins" throughout its marketing phase. It's possible that Sega will change some of its DLC plans, or maybe the base game's remastered take on the classics will be all that's really necessary.
With the "Sonic the Hedgehog 2" film now in theaters, "Sonic Origins" and "Sonic Frontiers" both set to release this year, and a Sonic spin-off in the works, strange DLC plans or not, Sonic is showing no sign of slowing down.