GTA 5's Michael Voice Actor Has Fans Buzzing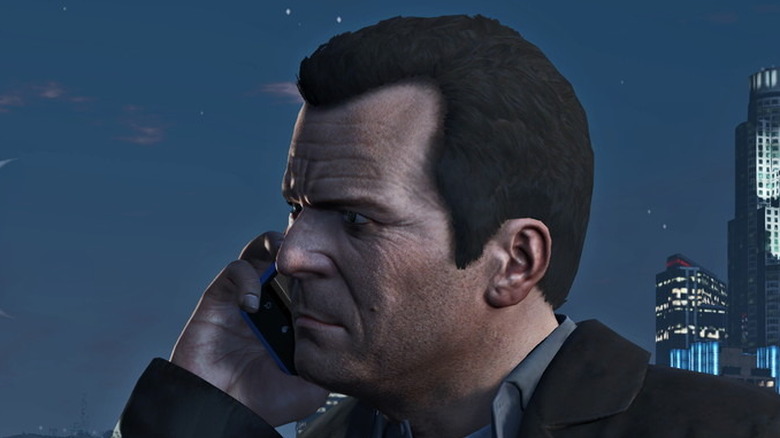 Rockstar Games
It's no surprise that "Grand Theft Auto Online" is still alive and thriving. "Grand Theft Auto 5" was the best-selling game of the last decade (per VentureBeat), and once gamers have their fill of the single-player world of "GTA 5," they take their violent escapades online. Every day, tens of thousands of gamers log onto "Grand Theft Auto Online" to create mayhem and build their virtual empires. And now that Rockstar Games has ported "Grand Theft Auto 5" to next-generation consoles and fixed some of its annoying technical issues, everyone can get in on the multiplayer action.
Advertisement
And because "GTA Online" is a live service title, Rockstar Games frequently releases new content for players to enjoy. For example, late last year, "The Contract" DLC made its way to "GTA Online," allowing players to check in on story mode protagonist Franklin Clinton and his friends years after the events of "GTA 5." After that exciting return, gamers are eager to see what else Rockstar has in store, crafting their rafted theories on what's next. Gamers have pointed out that both Franklin and Trevor have been featured in "GTA Online" in some capacity, leaving only one "GTA 5" playable character missing. 
Well, that might be changing, as a recent tweet by Michael's voice actor suggests something could be in the works. Or at least, that's what fans are hoping.
Advertisement
Is Michael coming to GTA online?
On April 28, Michael De Santa voice actor Ned Luke tweeted, "Ya do what ya gotta do...whatever it takes...survive," a recognizable quote from his "GTA 5" character. Accompanying the message was a video of the actor wearing the iconic uniform of the in-game restaurant Cluckin' Bell. After adjusting his oversized chicken cap, Luke looks into the camera and says, "This was not my idea of a successful retirement. Welcome to Cluckin' f****in' Bell. Can I take your order?" Naturally, fans immediately started speculating that this was a tease from Ned Luke that he'd be reprising his role as Michael. 
Advertisement
Luke wasn't entirely silent in response to the speculation, either. Twitter user @FroudeyBrand replied to the original post asking when Michael would get his own DLC like "The Contract," to which Ned Luke responded with a shrugging emoji. Whether Rockstar is working on a DLC featuring Michael De Santa or Ned Luke was just having some fun is uncertain. After all, Luke and Franklin voice actor Shawn Fonteno both teased a possible return to the game nearly two years ago, but only one of them has since resurfaced in "GTA Online."
However, with the recent introduction of "GTA+," Rockstar made it clear they are still focused on creating content for "GTA Online." A Michael DLC may still be on the table. And besides, the thought of Michael being forced to give up his mansion and start working at Cluckin' Bell is nothing short of hilarious.
Advertisement