Former Nintendo Boss Speaks Out On Company's Labor Complaints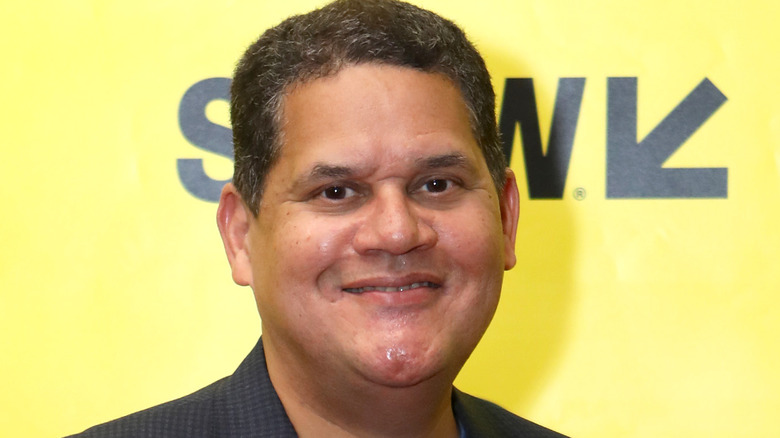 Samantha Burkardt/Getty Images
Over the years, western gamers have come to know and appreciate former President of Nintendo of America Reggie Fils-Aimé for his positivity and enthusiastic approach to games. The former COO who arrived at E3 2004 ready for "kicking a**" and "taking names" and sparred with the late Satoru Iwata at E3 2014, has become a popular figure to leave his mark on gaming culture. During his Nintendo farewell address in 2019, the former executive noted having immense gratitude for his time at Nintendo, an incredible brand filled incredible talent.
Advertisement
That positive outlook on the brand has shifted following the announcement of a serious charge filed in Washington, in which an anonymous worker alleges that Nintendo of America coerced them and their co-workers to prevent them from unionizing. The charge targets Nintendo of America and Aston Carter, a global accounting and talent acquisition firm with which Nintendo has partnered. With high profile game producers Activision Blizzard already under fire for allegedly perpetuating toxic workplace environments and or discrimination, the recent labor complaint against Nintendo broadens the scope significantly, and Fils-Aimé has since given his own thoughts on the allegations in an interview with Washington Post Gaming.
Advertisement
"The reports I hear really strike me as just not the company I knew," Fils-Aimé said in regards to Nintendo.
Reggie Fils-Aimé's Comments
The former president and COO recalls striving to foster a healthy and inviting workspace during the interview, which he believes he achieved during his tenure. "I was famous for doing bimonthly and quarterly lunches with employees," Fils-Aimé said. "It was a basic sign-up, and associates were invited as much as full-time employees."
Advertisement
The National Labor Relations Board has shared the allegations against Nintendo of America and Aston Carter, which include surveillance, coercion through threats firing, and retaliation, all allegedly in the name of discouraging unionization. Exact details of the allegations and methods used, however, have not been released to the public. Regardless, Fils-Aimé argued that employees need to feel valued.
"I fundamentally do believe that if employees are being treated with respect and the work they do and the pay and benefits they receive are in balance, the need for unionization isn't there," Fils-Aimé said. He concluded the interview by expressing plainly that, "certainly what's being described does not sound like a healthy (work) culture." If the allegations prove true and the American division of Nintendo has truly fallen from the healthy workplace detailed by Reggie Fils-Aimé, then it is probably in the company's best interest to make substantial changes.
Advertisement