Nintendo Switch Sports Fans Are Crying Foul Over Online Play
Nintendo
It's no surprise that gamers everywhere were excited about "Nintendo Switch Sports." Its predecessor, "Wii Sports," is one of the top-selling games of all time, with over 82 million copies sold. Gamers look back fondly on "Wii Sports." However, apart from a single sequel in 2009 titled "Wii Sports Resort," Nintendo hasn't released a worthy successor to the title. That all changed on April 29, when "Nintendo Switch Sports" hit shelves (and televisions) worldwide.
Although "Switch Sports" shares some of the same mini-games as its predecessors, it brought one monumental change to the series: the ability to play online. So instead of gaming next to the competition, gamers can now compete in six different sports against players all across the world — or at least, that's what they thought. Across social media, gamers have been complaining that the Online mode doesn't appear to truly be online. However, there are a few trusted content creators who disagree.
Some opponents are bots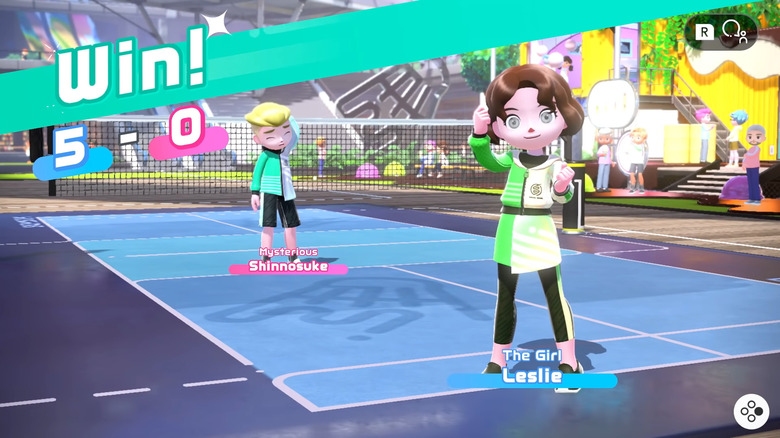 Nintendo
On May 3, Nintendo Life uploaded a YouTube video titled "No, Nintendo Switch Sports' Online Isn't Fake." The video was uploaded in response to gamers complaining that they were only playing against what they believed to be bots in the Online mode, with the main evidence being the fact that their opponents possessed generic names and titles. Nintendo Life's Alex Olney started the video by agreeing with the frustrated gamers, stating, "I can say with all my knowledge that I believe [the suspected opponents] are bots." However, he went on to explain that there are still real players out there.
According to Olney, his first few matches online were full of bots. But after completing those matches, he started to get matched up with real players. Other knowledgeable "NIntendo Switch Sports" players shared this experience. For example, in reply to a Nintendo Life article, one user said that players have to participate in one bot match in the respective sport before competing against real players. However, it's unclear if it's only one match for everyone. There's a real chance many Switch Sports gamers played one or two matches only to be surrounded by bots and call it quits, not realizing they're one round away from competing with real people.
However, many gamers are already accustomed to this technique, as it's become somewhat of a trend. Games like "Fortnite" pit players against bots for their first handful of matches to give them time to familiarize themselves with the game. If this is the case with "Nintendo Switch Sports," Nintendo probably could been more clear about who is or isn't a bot. Additionally, some information about how many bot games are required would be nice, as many fans have been under the impression they didn't have to play any.