Former Xbox Exec Gives An Ominous Warning About Game Pass
Microsoft
Xbox Game Pass is one of the most exciting aspects about Microsoft's presence in the gaming world at the moment. If you have a subscription, a huge variety of titles are yours to play at no additional cost on Xbox, PC, or even your phone thanks to the company's experimental cloud gaming. Xbox has made it easier and more affordable than ever to access not only its entire first-party lineup, but a bevy of third-party options ranging from recent AAA releases to niche indie hits. 
When Microsoft announced its intention to acquire Activision Blizzard in January, it also revealed that the number of Xbox Game Pass subscribers had grown to 25 million. With that much success, it's no wonder that PlayStation will soon release an update to its subscription service, and that Xbox hopes to continue iterating on Game Pass by possibly taking a cue from Nintendo. While all of that sounds pretty great for consumers, some, like former Xbox executive Ed Fries, worry that offering so many games at a low price may be doing more harm to the industry than good.
Ed Fries compares Xbox Game Pass to Spotify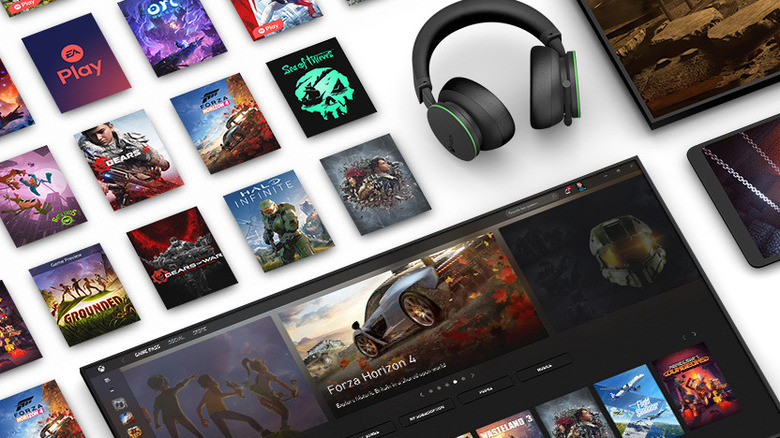 Microsoft Corporation
Speaking on a recent episode of the Xbox Expansion Pass podcast, Ed Fries expressed that he isn't too sure about Xbox Game Pass. "Game Pass scares me because there's a somewhat analogist thing called Spotify that was created for the music business. When Spotify took off it destroyed the music business. It literally cut the annual revenue of the music business in half, and it's made it so people just don't buy songs anymore." 
Wondering whether or not players will continue to purchase entries that are available on Game Pass has been a fairly popular subject of conversation as the subscription service grows, and Fries seems worried that the industry could suffer. "As a customer, I love it. I love Spotify as a customer. Gee, I have all the songs I ever want. I can just play around with them. It's great, great deal as a customer. But it isn't necessarily great for the industry."
While Fries' concerns make some sense, they don't seem to sync with reports. In an interview with The New York Times earlier this year, Xbox head Phil Spencer emphasized, "The retail market continues to be very strong and grow." Likewise, the NPD Group's Mat Piscatella said in a December 2021 tweet, "Data still [suggests] that subscription services like Game Pass are helping grow the overall market." Only time will tell if Xbox Game Pass continues to improve sales or if it will eventually assume the role of a Titanic-sized iceberg. Until then, consumers can rejoice at having access to loads of titles.