Why Fans Think This GTA 5 Star Is Making His Return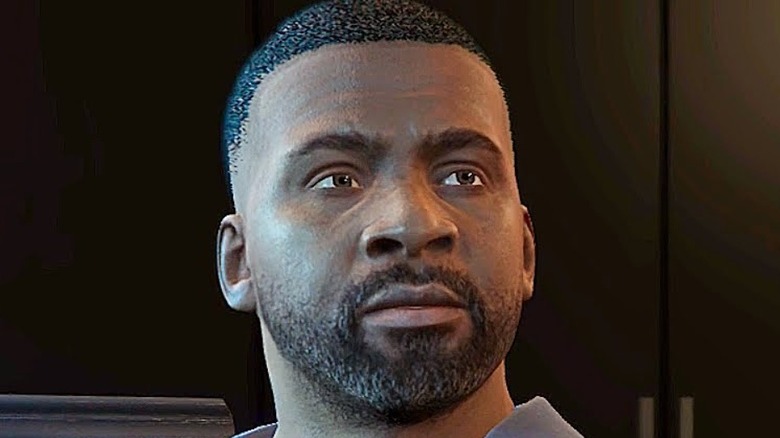 Nearly a decade after its initial release, "Grand Theft Auto 5" is still going strong. Arguably Rockstar Games' magnum opus, the fifth mainline entry in the "GTA" series continues to draw in new and old fans with its engaging gameplay, wild action set pieces, and a vast open world that is supplemented by consistent updates via "Grand Theft Auto Online." And although the live service elements of the game tend to take up a great deal of the attention these days, it's worth remembering that the first thing that absorbed gamers was the story mode in "GTA 5." And now, it's looking like that story may be getting another expansion in the future — unless one of its actors is just having a bit of fun with the fans.
Featuring three compelling leads in the form of Michael De Santa, Franklin Clinton, and Trevor Philips, "GTA 5" spins a web of interlocking criminal conspiracies and unbreakable friendships throughout its campaign. Fans begged Rockstar to expand on the stories of these characters with single-player DLC for years, but were typically met with one reason or another why such an expansion was unfeasible. Simply put, "GTA Online" has been far too successful for Rockstar to see the value in allocating resources for story DLC, leaving some fascinating potential side stories by the wayside (including a proposed zombie storyline).
Fans finally got what they want (mostly) when Rockstar released "The Contract" earlier this year, a DLC that reintroduced Franklin Clinton (voiced by returning performer Shawn Fonteno) in a series of missions involving Dr. Dre and missing music tracks. If new "GTA Online" leaks and a recent post from Michael De Santa's voice actor are any indication, then Michael might be the next "GTA 5" protagonist to return to the spotlight.
Is Michael De Santa returning?
Ned Luke is the voice behind Michael Townley, a.k.a. Michael De Santa, a former criminal living it up in witness protection when players first meet him in "Grand Theft Auto 5." After a chance meeting with Franklin, Michael remembers why he enjoyed the thrill of crime so much, and so he enlists the young up-and-comer in a series of heists that bring him back into contact with his old buddy, the mercurial Trevor Philips. Fans latched onto Luke's portrayal of Michael and the character's transformation over the course of the game, so it makes sense that gamers still hope to see Michael make a grand return to "GTA."
In what may be a case of wishful thinking, some fans believe a tweet from Luke is hinting that they may soon get their wish. On June 7, Luke shared an article from VG247 that speculated on the return of Michael De Santa, captioning the tweet with a clueless "shrug" emoji. Fans took this as a sign that Luke was teasing them, or at least playing coy with his own inside knowledge. The comments section immediately blew up, with some fans expressing their hopes for a reunion of the game's protagonists and others straight-up alleging that Luke has been keeping his involvement in new "GTA Online" content a secret. Of course, the actor would have had to sign some sort of confidentiality agreement to act in the game, but that hasn't stopped fans from prying for more info.
For his own part, Luke followed up his own tweet with a facepalm emoji, seemingly already regretting the storm of speculation that had been set in motion. Still, there are a few reasons for fans to hold out hope for Michael's return.
GTA Online has been hinting at Michael for a bit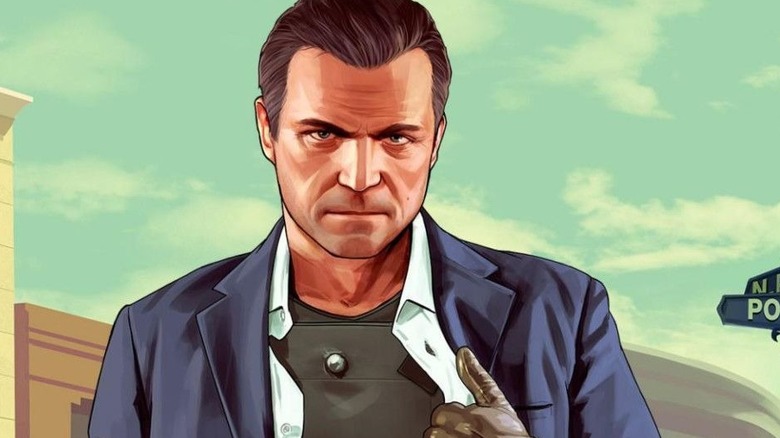 So just what was the report that set all of this in motion? According to VG247, multiple "GTA Online" dataminers have found references to a mission taking place at a movie set buried in the game's code. There are a few reasons why this may point to the return of Michael De Santa. First of all, Michael made a successful transition into the movie business at the tail end of "Grand Theft Auto 5," producing an action movie called "Meltdown." In "Grand Theft Auto Online," players can see that this career has continued with such in-universe smash hits as "The Simian." During the events of "The Contract," which is set years after the events of "GTA 5," Franklin makes an offhand comment about knowing one of the producers at a movie studio visited during a mission, obviously referencing Michael. If the next big "Online" update is centered around a movie set, it would make a great deal of sense to bring Michael back into the fold, and Ned Luke with him.
Perhaps the biggest piece of evidence is the fact that Shawn Fonteno previously teased during an Instagram Live chat that he and Ned Luke were expected to possibly record new dialogue for "GTA Online." Luke played cagey about this at the time, but now fans are feeling like it's only a matter of time before Vinewood's toughest producer graces players' screens once again.