Fortnite's Latest Secret Calls Back To Elden Ring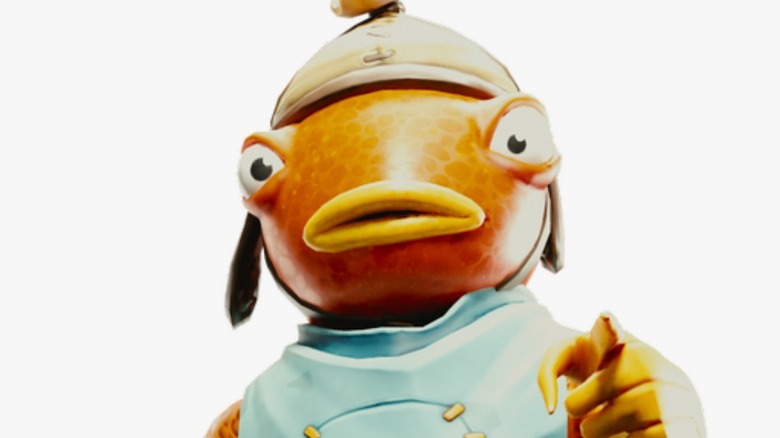 Epic Games
Along with fingers and notes about "dogs," the uniquely strong wall located in the Volcano Manor became one of the most widely discussed memes in the "Elden Ring" community. Breakable walls hiding hidden passageways and discoveries have served as a type of Easter egg sprinkled throughout the world of The Lands Between, but the strongest breakable wall of them all became a widely covered anomaly, given the effort needed to break it and the lack of a reward on the other side. While FromSoftware has since replaced the wall with ordinary, unbreakable masonry, another Easter egg from a completely different game has kept the memory of the Volcano Manor wall alive.
Advertisement
The wildly successful battle royale "Fortnite" has had little to do with "Elden Ring" before now. However, a Twitter user has discovered a breakable "wall" in that game with some similarities to the 50-hit "Elden Ring" wall. As demonstrated in a video post on Twitter, this "Fortnite" wall requires a lot of damage to break and contains three NPCs on the other side, two similarities shared with the Volcano Manor wall. But unlike "Elden Ring's" strongest breakable wall which led to a room already accessible normally, breaking down the "Fortnite" wall led to treasure on the other side.
Walls of separation
"Fortnite" news source HYPEX reposted the video showing two teammates clearing away a mound of debris in Reality Falls. After clearing the debris, the players discovered a room with three NPCs, two chests, a tent roll, and other usable items. As described by The Loadout, the NPCs chilling behind the landslide were the Henchman Duo and a lone Trespasser. Twitter repliers to HYPEX speculated they could be waiting to meet a lone IO Guard.
Advertisement
Notably, the "Elden Ring" wall gave way to a room housing three NPCS as well: Rya, Diallos Hoslow, and Bernahl. According to HYPEX, "Fortnite's" wall had "five trillion HP," making it a formidable barrier just like Volcano Manor's wall.
Epic Games has not yet commented on these similarities or whether the wall in Reality Falls indeed took inspiration from "Elden Ring." The studio has grown accustomed to adding pop culture references to "Fortnite" in the past, and the various cosmetics and skins players can equip have become a constant in the game's updates. In shadier circumstances, Epic Games borrowed from pop culture without acknowledgment, such as when its "Fortnite Imposters" mode led to the creators of "Among Us" feeling betrayed.
Advertisement
Drawing from "Elden Ring's" Volcano Manor Easter egg would represent a much more harmless homage if the creators of "Fortnite" intended it as such. Perhaps this Easter egg will act as a preview to an "Elden Ring" and "Fortnite" cross-over, where characters like Melina or the Tarnished protagonist appear as skins in the battle royale. Well, at least we can dream.