Kingdom Hearts 4 Has A Surprising Limitation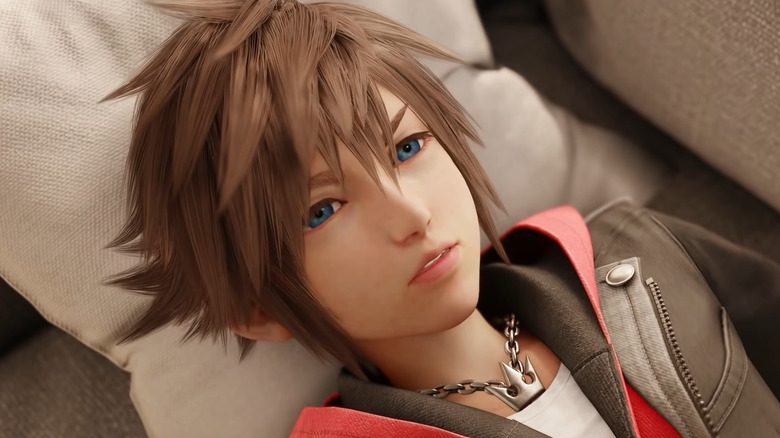 Square Enix
Square Enix's beloved Disney crossover JRPG "Kingdom Hearts" marked its twentieth birthday this year. In celebration, Square Enix revealed "Kingdom Hearts 4" in a short teaser trailer. Reactions to the announcement were mixed, with many long-time fans skeptical about the visuals of "Kingdom Hearts 4." To gamers' surprise, "Kingdom Hearts 4" is less cartoony than its predecessors, leaning more into a "Final Fantasy"-esque art style with its real-world city and a Sora with uncharacteristically normal-sized feet. But, Disney wasn't completely exempt from the trailer, as Goofy and Donald Duck made an appearance via a brief cameo at the end.
Unsurprisingly, fans were left wondering how much of the Goofy world of Disney will play a role in the fourth game. In addition, many have speculated that "Kingdom Hearts" was in the process of distancing itself from its cartoon roots, as a popular Star Wars theory hinted at a new direction for the series. Now, the "Kingdom Hearts" game director has taken the time to answer this very question, but not everyone will be pleased with his response.
The graphics are too good for Disney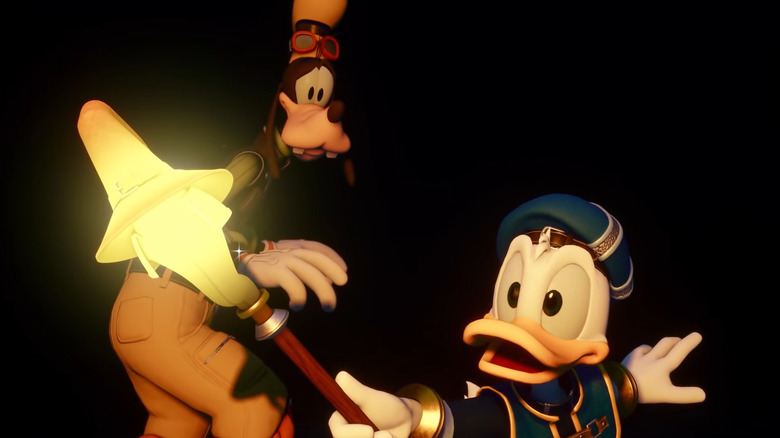 Square Enix
On June 14th, "Kingdom Hearts" game director Tetsuya Nomura sat down with GameInformer to discuss the series' future. Specifically, Nomura addressed some concerns fans had about Disney being less of a focus in the series moving forward. Nomura assured gamers that there will be some Disney worlds present in "Kingdom Hearts 4" and added, " [players] don't need to worry so much about this aspect of the game." Nomura clarified that "['Kingdom Hearts 4'] might feel slightly different from previous 'Kingdom Hearts' titles."
When asked to explain, Nomura said, "there's so much more we can do in terms of graphics, it kind of limits the number of worlds that we can create in a sense." He also added that the development team is still figuring out how to approach this problem. This makes sense, as modernizing the game's graphics means some Disney worlds will need to be left behind. For example, 2D characters from works such as "Hercules" would look out of place in the urban setting showcased in the trailer. These changes could be just the start of "Kingdom Hearts" phasing out cartoony Disney content in exchange for better visuals. Although these changes seem like a solid way to keep the game modern, this news may disappoint many fans. Considering "Kingdom Hearts 3" took over five years to develop (per dbltap), gamers likely won't see "Kingdom Hearts 4" for some time.