Elden Ring Publisher Targeted By Hackers
Cases of bad actors leveraging ransomware and blackmailing companies by hacking into their systems and stealing precious data have kept the Federal Bureau of Investigation busy. Among the bad actors out there, BlackCat has extorted more than 60 entities across the globe (via the FBI). Also known as ALPHV, the ransomware service provider reportedly targeted Plainedge Public Schools in Long Island, New York recently, threatening to leak personal information from staff databases (per DataBreaches.net). 
Advertisement
BlackCat's threats have extended into the gaming industry, with the group picking a fight with Bandai Namco. Bandai has enjoyed the glow of success following the launch of "Elden Ring," with fans all but clamoring for DLC. Unfortunately for the company and certain "Elden Ring" players, BlackCat may have just spoiled upcoming DLC in its most recent attack.
The internet has made educated guesses about what "Elden Ring" DLC could entail, such as exploring a hidden area in the game or linking to Miquella's hand. ALPHV may have provided an answer via the leak of 2023 Bandai Namco titles. The Twitter for vx-underground, which congregates malware source code from bad actors, reported on BlackCat's targeting of Bandai. If the content of the lineup turns out to match Bandai's plans, it could affect both the gaming publisher's bottom line and the surprise element of gamers waiting for official reveals. 
Advertisement
Alleged leak could hurt Bandai Namco's profits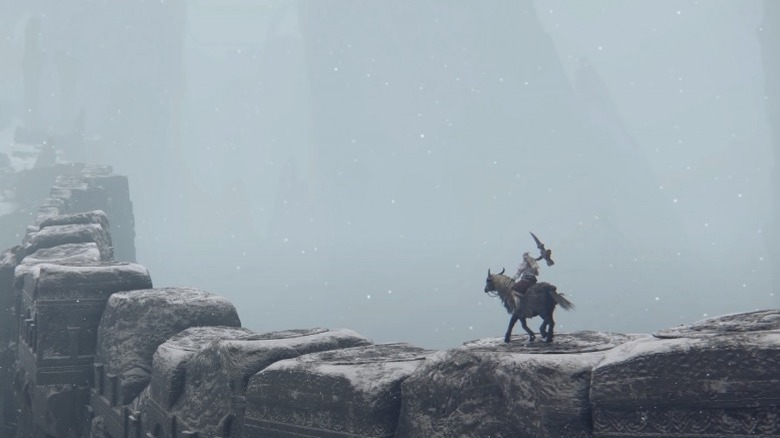 Bandai Namco
Vx-underground posted an image on Twitter of the purported blackmail: a screenshot on BlackCat's website of the Bandai Namco logo next to a promise of data arriving soon. ResetEra member Raigor shared a screenshot of Bandai Namco's supposed 2023 lineup. Among the titles listed, ALPHV's image revealed "Tekken 8," "Dragon Ball The Breakers," "Armored Core," and "Elden Ring: Barbarians of the Badlands."
Advertisement
Neither BlackCat nor Bandai Namco have commented on the leak and its contents. The leak of "Elden Ring" DLC and numerous high-profile Bandai Namco games could still prove to be fake, as many on ResetEra predicted. BlackCat has not pressed further in revealing sensitive information, either.
The ransomware group's tactic thus far has lined up with its past behavior. ALPHV has targeted both sensitive employee information and critical operations systems. For example, Bloomberg reported that BlackCat had some link to the Colonial Pipeline cyber attack that took several fueling systems out of commission.
Fans feed on the hype generated from reveals, making it possible that BlackCat's leak has robbed Bandai Namco of some of the surprise it would receive from an announcement of "Elden Ring" DLC. Of course, that all depends on the veracity of the leak.
Advertisement