MrBeast's $1 Million Gift To Ludwig Explained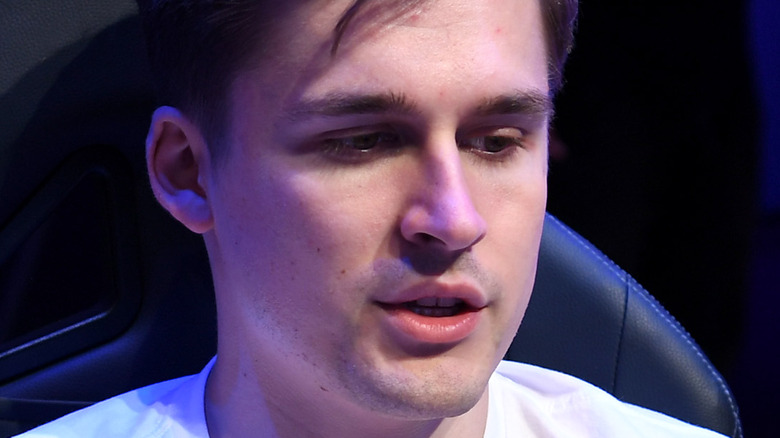 Denise Truscello/Getty Images
What do you give the streamer who has everything? Ludwig, who blew up in 2021 after a massive sub-a-thon, doesn't need money or a platform to talk about his ideals, but gifting him a guaranteed hit video could just be the unique gift the streamer could enjoy for years to come. MrBeast recently gave his pal Ludwig a video that cost him approximately $1 million to produce, allowing the streamer to upload it to his channel. While the gift may sound unorthodox, it actually makes a good bit of sense. 
Perhaps the best place to start is at the beginning, when MrBeast actually made the video that he gifted to Ludwig. For those who aren't familiar with his over-the-top stunts, MrBeast frequently creates expensive, intricately produced videos to upload to his YouTube channel. These videos often feature viewers competing for money in ridiculous situations, like a recreation of the Netflix hit "Squid Game." When he's not filming videos, MrBeast runs his own branded burger chain, which – while it has some fans divided – has been successful enough to continue operation.
One of MrBeast's latest videos — with the daring title of "I Buried $100,000, Go Find It" — just didn't live up to his standards, so he explained that he gave it to Ludwig to upload to his channel instead. Why? In MrBeast's own words: "Instead of scrapping it, I decided to give it to Ludwig to upload on his channel because he flew to North Carolina to be in the video." Here's what went down during and after the big collaboration.
The collaboration had been in the works for months
Back in April, MrBeast shocked Ludwig with a huge video offer. While MrBeast didn't get specific about his plans at the time, he called Ludwig while the latter streamer was on air, asking him if he had plans that Friday. MrBeast then revealed that he'd booked a private jet to pick Ludwig up and fly him to North Carolina – MrBeast's homebase – to participate in a video. Despite Ludwig's chat questioning whether the incident was planned, Ludwig insisted that it wasn't, and that he was just as confused as everyone else.
Now, it seems that MrBeast's secretive video was the very same that he gifted to Ludwig. Even though Ludwig claimed in a YouTube comment that he tricked MrBeast into allowing him uploading privileges, it seems that the collaboration was in process for months. Ludwig was involved in almost every part of "I Buried $100,000, Go Find It," moderating several of the challenges that the two contestants had to complete in order to get closer to finding the fabled $100,000 stash. Ludwig directed contestants to dive for sunken treasure, instructed them to fire a giant cannon or go to jail, and helped oversee the contestants burying each other alive. It's a lot. 
While Ludwig was a true collaborator, appearing frequently in the video, it's ultimately unclear if MrBeast always planned to gift him the video, or if it was truly a last-minute decision. Either way, both creators are definitely benefitting from the attention, and Ludwig has even acknowledged that the video will be his biggest hit yet.
Things didn't go according to plan
Ludwig playfully tweeted that the MrBeast video will likely become the most viewed content on his channel. The video might be well on its way to reaching that goal, as it has already racked up over one million views less than 24 hours after upload.
Viewers were generally excited to see the two YouTube giants collaborating, but there were also questions. Some fans were confused as to why MrBeast wouldn't post the video on his own channel, and others quickly explained that the video didn't live up to MrBeast's standards because of several small things that went wrong – like the most famous Sumo athlete in Japan getting toppled in a matter of moments. On "The Yard" podcast, MrBeast elaborated on what went wrong from his perspective, commenting that challenge after challenge ran into issues during production, including a language barrier between the Sumo wrestler and the crew. In fact, MrBeast said that it's not the first video that went awry, and he apparently has an entire hard drive of failed content. Then and there, the pair decided to upload the video to Ludwig's channel instead.
One viewer argued that Ludwig and MrBeast's explanation of why the video was uploaded to Ludwig's channel actually ruined their experience of watching it, and that the pair should've just uploaded it with no additional context. Some viewers fully committed to the bit, celebrating Ludwig and wondering when he'll release his next challenge video.