Diablo 4's Alpha Has Begun, But There's A Catch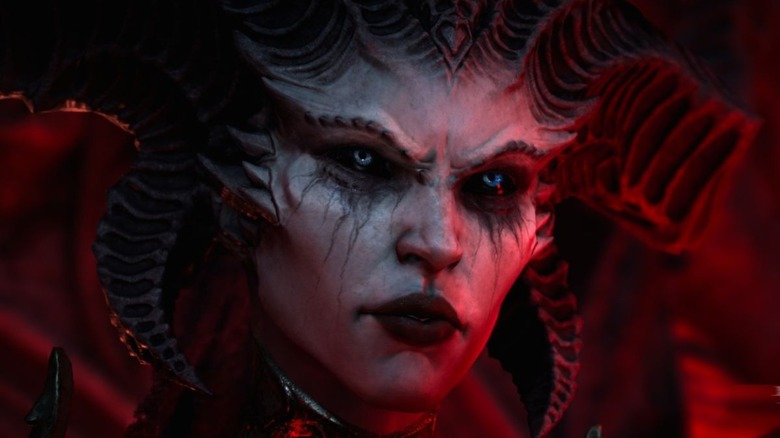 Blizzard
Development for Blizzard's next installment in the "Diablo" saga, "Diablo 4," is well underway. Just last month, Blizzard delivered a gameplay showcase trailer that gave gamers a peek at what's to come. Some of the most notable mentions in the trailer include a character customization feature, an open world with no linear path, and the addition of a Necromancer class. Unfortunately, the release date of "Diablo 4" is still far away, especially after a delay following Blizzard's executive shakeups.
Advertisement
There are a lot of hardcore "Diablo" fans who are still unsure about the new title. Much of this skepticism comes from the controversy surrounding the mobile game "Diablo Immortal." Even though "Diablo Immortal" has become very popular, awarding Blizzard with an unprecedented amount of money, some gamers panned the title due to its pay-to-win nature that emphasized microtransactions.
Since then, Blizzard has tried to distance "Diablo 4" from "Diablo Immortal" by stating that the newer game will include be a pay-to-win mechanic. However, many are still curious about how Blizzard will tackle this next series entry. According to rumors, some gamers have already gotten an answer to this question via an Alpha build. However, there's a catch.
Advertisement
It's friends and family only
On August 3, games journalist Jason Schreier Tweeted, "a bunch of people are playing an early build of Diablo IV right now." Unfortunately, this doesn't mean Blizzard is taking applications for Alpha testers. Schreier wrote that the current build is a friends-and-family alpha test. This means only those inside the developers' circles have been given access. 
Advertisement
Anyone hoping to see new gameplay and reactions online with the alpha test is also out of luck. Schreier wrote that the players are under a Non-Disclosure Agreement (NDA). So, unless someone breaks the legally binding contract, there won't be any information about the alpha leaked.
But Schreier wrote, "I'm hearing mostly positive buzz," which is a sigh of relief to any "Diablo" fan. Of course, some were quick to joke about this statement, with user @hawkinson88 writing in response, "Probably because the cash shop isn't on yet," referencing the fact "Diablo Immortal" reviews were mostly positive before its cash shop opened. So gamers must wait until sometime in 2023, when "Diablo 4" is expected to release, to form their own opinions about the game. In the meantime, fans can always make a flesh sacrifice to get a free copy of the game and access to the beta whenever it drops.
Advertisement