The Real Reason Fortnite Fans Are Expecting An Eminem Collab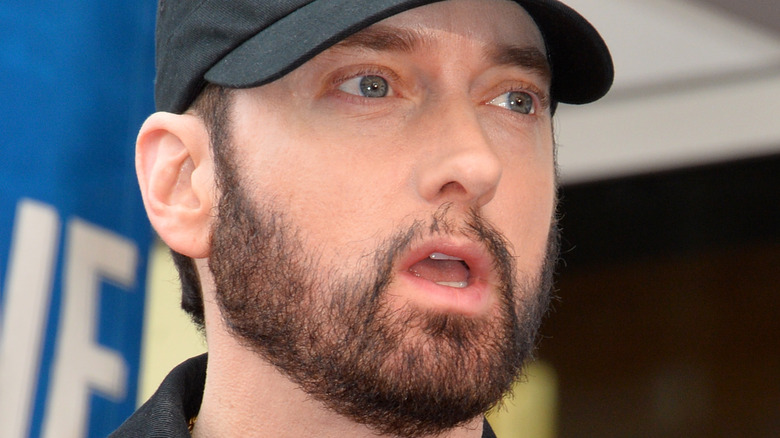 Featureflash Photo Agency/Shutterstock
It's about time for the next "Fortnite" concert. So far, "Fortnite" has hosted popular artists like Marshmello, Ariana Grande, and even the more controversial Travis Scott. So who's next? Epic hasn't announced who it intends to invite next to the game's virtual stage, but some suspect it could be Eminem.
Advertisement
The rap icon just released "Curtain Call 2," an album that combines his most popular songs into one collection. He historically hasn't made appearances in the gaming industry, but a recent hint from the "Fortnite" ICON radio has convinced the community that he might be next to be featured by "Fortnite." On August 13, multiple "Fortnite" content creators noticed that Eminem songs played on the "Fortnite" ICON radio for an extended period of time. 
The "Fortnite" ICON radio, which has been around since Chapter 2 Season 3, often plays music from popular artists before they appear in the game. According to "Fortnite" account AgentShadow, Bruno Mars and Anderson .Paak appeared there too before their own "Fortnite" collabs. .Paak also appeared there after the Coachella concert. 
Advertisement
Eminem's inclusion on the radio station could be the sign players need. Here's how gamers are predicting the artist's inclusion in "Fortnite."
Content creators make an educated guess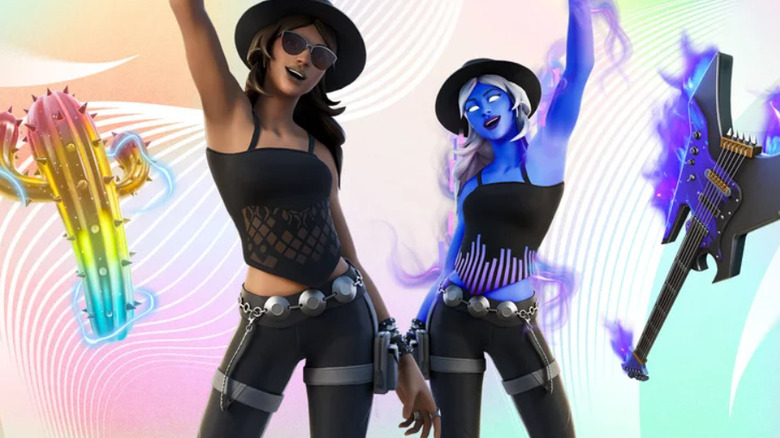 Epic Games
Content creators, including Epic Games partner HYPEX, tweeted that Eminem was the only artist playing on the "Fortnite" ICON radio on August 13.
"Eminem is the ONLY artist playing on Fortnite's ICONs radio right now. Potential collab?" HYPEX wrote. He listed Eminem songs – including "Godzilla," "Not Afraid," "Venom," "Monster," "Berzerk," and "Survival" — that played on that day. Many of these songs are also featured in Eminem's latest album. The "Fortnite" ICON radio could have been playing the most popular songs at the time, which would make sense because the album recently came out. 
Advertisement
"Fortnite" news account iFireMonkey tweeted the same news and added, "As a reminder however, there are 0 skins currently encrypted so it might be something smaller like a emote or music pack." This information doesn't rule out the possibility of a skin, but it isn't something that exists yet, based on data-mining.
Many "Fortnite" players commented with how they would feel about an Eminem skin in the game. Some welcomed the idea while others pushed back, mostly due to clashing musical preferences. It might not even matter, considering that Epic hasn't confirmed anything. We'll have to wait to see if the suspicion is founded. 
"Fortnite" is available on PC, PlayStation 4, PlayStation 5, Xbox One, Xbox Series X|S, and Nintendo Switch. You can also play it on mobile, but with a catch. 
Advertisement