Madden NFL 23: Every Tampa Bay Buccaneers Player With A Superstar Or X-Factor Ability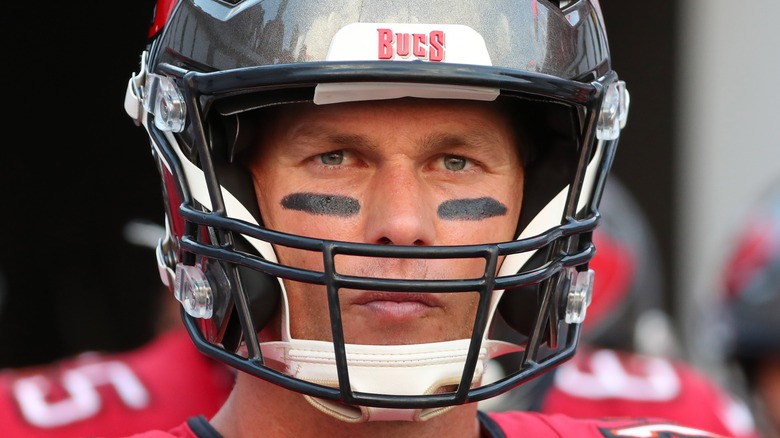 Steve Jacobson/Shutterstock
"Madden NFL 23" marked a significant moment in history by honoring the late coach and broadcaster John Madden, who passed away at the end of 2021. Though EA typically reserves the honor for a standout athlete from the previous season, the "Madden 23" cover features Madden, who provided his likeness for the series in addition to serving as its namesake.
Beyond celebrating an industry titan, "Madden NFL 23" added multiple new features, such as fresh Superstar and X-Factor abilities – and tweaks for existing ones — to EA's annual football franchise. These special skills are reserved for the best of the best players, giving them a unique ability based on their real-life prowess. This addition, among others, like the FieldSENSE system, have resulted in positive reviews from critics, indicating that "Madden NFL 23" is taking the series in the right direction. Here is every player with a Superstar or X-Factor ability on the Tampa Bay Buccaneers.
Three Tampa Bay Buccaneers players have an X-Factor ability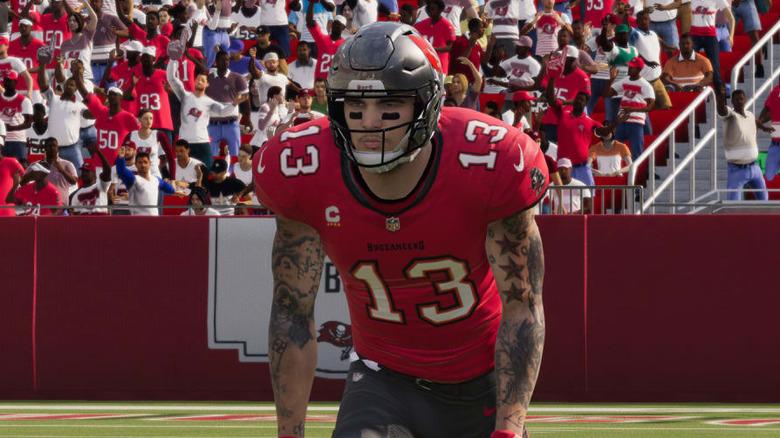 Electronic Arts
The Tom Brady-led Tampa Bay Buccaneers made the playoffs in 2021, ultimately losing to future Super Bowl winners the Los Angeles Rams (via ThePewterPlank). X-Factor abilities are more powerful than Superstar abilities, but must be earned during the course of a game. With a solid season record and a decent run in the playoffs, the Buccaneers have three players with an X-Factor ability (per RealSport101):
Tom Brady, quarterback. His ability is Pro Reads, which highlights the first open passing target and ignores pressure. 
Lavonte David, linebacker. His ability is Run Stuffer, which makes him more effective at shedding blocks during run plays. 
Mike Evans, wide receiver. His ability is Double Me, which has Evans win aggressive catches when in single man coverage. 
While there are a limited number of players with X-Factor abilities, the Buccaneers could get another one via a trade later in the season, which would impact the in-game roster. 
Tampa Bay Buccaneers Superstar players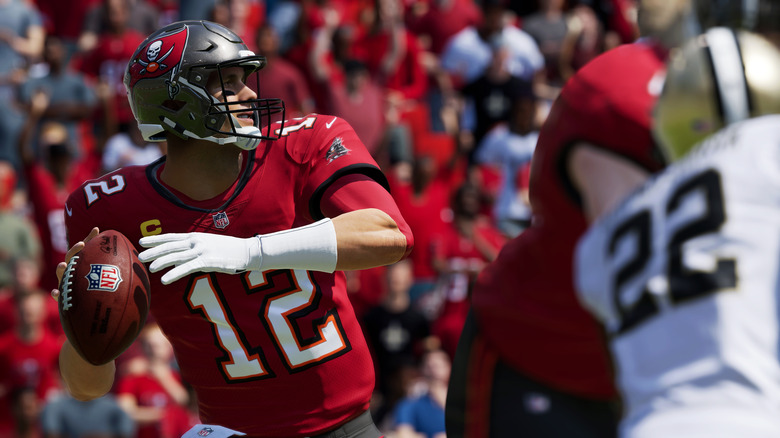 Electronic Arts
There are also multiple Superstar players on the Buccaneers that have less powerful passive abilities. The Buccaneers have five Superstar players (via GameSkinny):
Chris Godwin, wide receiver. Godwin has the Slot-O-Matic ability, which gives him better cuts and catching on short route passes, and the Mid in Elite ability, which improves his catching on medium passes inside the numbers.
Ryan Jensen, center. He has the Secure Protector ability, which improves his blocking against quick shed moves, and All Day, which provides better protection against frequent shed attempts.
Shaquil Barrett, outside linebacker. His abilities are Strip Specialist, which reduces the tackle penalty while trying to strip the ball, and Edge Threat, which improves his pass rush moves from the edge.
Tristan Wirfs, offensive tackle. He has the Secure Protector ability and the Natural Talent ability, which gives him blocker resistance at the start of the game.
Vita Vea, defensive tackle. Has the El Toro ability, which gives him dominant bull rush wins from max pass rush points, and BOGO, which grants a free pass rush move after spending a point.