Twitch's New Rules May Change The Streaming Game For Dr Disrespect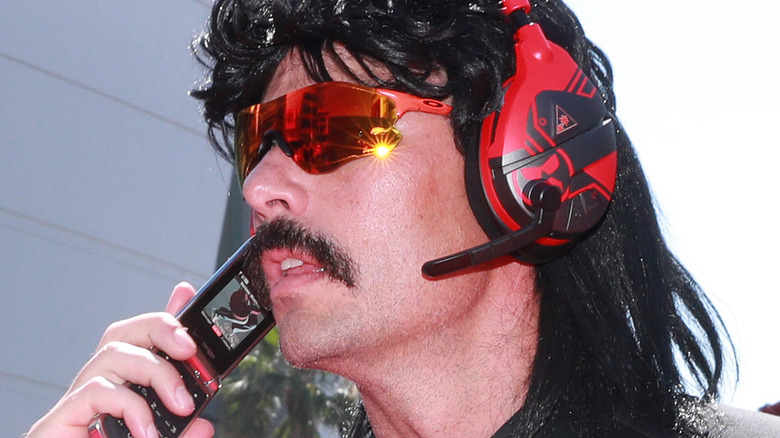 Rich Fury/Getty Images
Dr Disrespect is one of the most popular live streaming personalities, but he can't be found on Twitch. That's because the Doc was permanently banned on Twitch in 2020 for an undisclosed reason, spawning a lengthy beef between the streamer and the platform. Since then, Dr Disrespect has been streaming exclusively on YouTube and opened a games studio. However, even though the decisions was out of his hands, some could argue that Dr Disrespect was ahead of the game. Since his departure, a handful of the most popular Twitch streamers have also moved to YouTube.
Now, Twitch is making moves to be more accepting of streamers using multiple platforms through a new policy change. Previously, partnered Twitch streamers could not stream on other sites. That is all changing now, and it has big ramifications for Dr Disrespect.
In a recent email sent by Twitch to its partners (per Gaming Careers), the streaming platform announced that it would no longer be enforcing a section of its Partner Program Policy – specifically, the section that prohibits its partnered streamers from broadcasting themselves elsewhere. Starting today, Twitch will allow partnered streamers to livestream on sites such as YouTube and Facebook, as long as said streams are not simulcasted. In other words, Twitch partners can stream on YouTube, but they can't stream YouTube and Twitch at the same time. Not only that, but partnered streamers will have even fewer restrictions when broadcasting themselves to TikTok and Instagram Live.
In theory, this means that Dr Disrespect's friends on Twitch can now start streaming with him over on YouTube. That's a pretty big deal — but how did Dr Disrespect himself react to this surprising news?
The Two Time can now squad up with his Twitch buddies
Since moving to YouTube, Dr Disrespect has had to stream with YouTube personalities exclusively, as he wasn't allowed to show up on any Twitch streams. But now that Twitch partners can broadcast on other sites, a Twitch partner can boot up a YouTube or Facebook livestream and game with Dr Disrespect. The Doc quickly commented on this change, tweeting, "Who's gaming with the Doc soon?" 
And already, Twitch streamers such as OpTic FormaL have responded to his offer to say they're ready to stream with him. Esfand chimed in to say that he'd consider it if Dr Disrespect wanted to stream "Madden," while TSM Viss said he knew of more than one person who'd be all in on playing video games with the Doc. Fans of Doc and Viss will likely remember that the esports pro is actually a huge fan of the Two Time, even going so far as to cosplay as Dr Disrespect for an entire five-hour stream. Meanwhile, a ton of fans and viewers shot their shot in Dr Disrespect's replies, saying they'd also stream with him in a heartbeat.
In typical Dr Disrespect fashion, the Two Time also mocked the partner changes by immediately making plans to stream on both YouTube and Facebook simultaneously, something a Twitch partner still can't do. The Doc joked about the stream in his announcement, tweeting, "Gonna see if I can ignore chat on BOTH platforms." Dr Disrespect has since delayed the dual Facebook/YouTube stream to Friday, August 26, explaining, "I want it to be radical." Jokes aside, fans of Dr Disrespect will undoubtedly be excited to see which Twitch streamers take the Two Time up on his offer to team up.
Is streaming with Dr Disrespect still a risky proposition?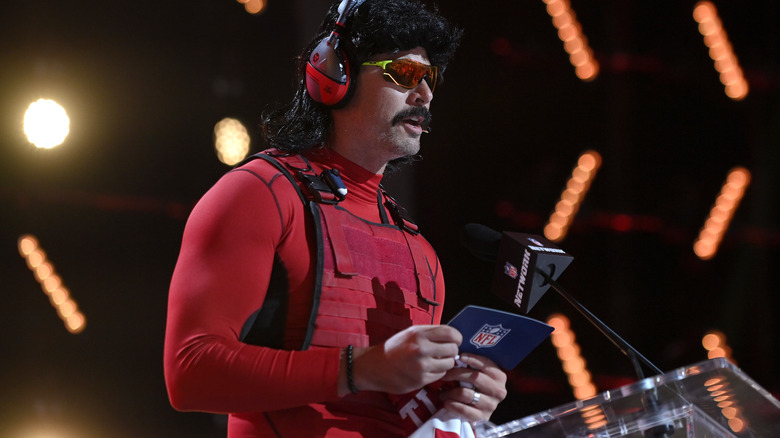 David Becker/Getty Images
Of course, just because Dr Disrespect's friends can stream with him now, it doesn't mean it's the best decision to do so. Twitch has been notoriously adamant about keeping any mentions or images of Doc off of its platform, to the point where the platform implemented special rules for simulcast tournaments where the Dr Disrespect would be present. Not only that, but Twitch streamers who are publicly friendly towards Dr Disrespect don't always get the best treatment from the platform. While some streamers, like Nadeshot, have been willing to risk it all to chat with Dr Disrespect on stream, others have seen unintended consequences for their loyalty to the Doc. For instance, ZLaner's lighthearted Dr Disrespect cosplay seemingly backfired when Twitch barred him from competing in a Twitch Rivals tournament last year.
And as noted by former YouTube Gaming boss Ryan Wyatt, Twitch's newest rules aren't exactly a total solution. Twitch partners are still encouraged to limit their time streaming on other platforms, which would in turn cut back on the amount of time they could spend hanging out with Dr Disrespect on stream. The sort of half measure seemed to irritate Wyatt, who tweeted, "This is still bad for creators. LET CREATORS BE FREE!!!!"
It remains to be seen how many Twitch partners will take this opportunity to stream on other services, much less chill with Dr Disrespect. However, that hasn't stopped viewers from getting excited about the possibilities.