Doom Meets Batman In This Over The Top Mod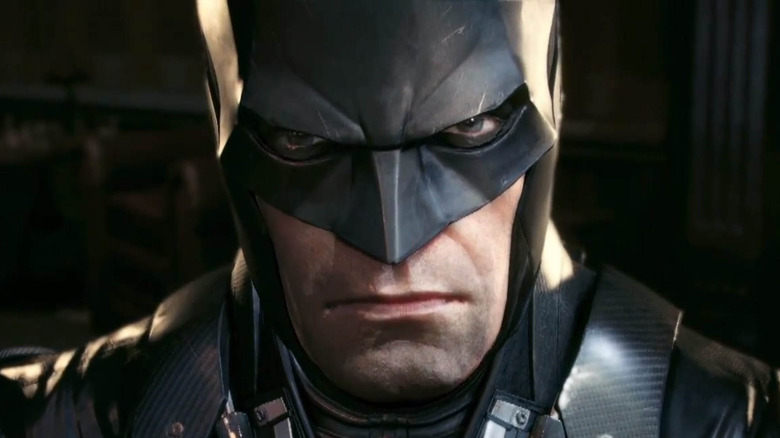 Warner Bros. Interactive Entertainment
Have you ever thought that "Doom" would be improved if there were fewer demons and more Batarangs? Then this mod may be for you.
One of the most iconic series of all time, "Doom" continues to receive love from fans. From playing on Twitter to powering the game with potatoes, they continue to enjoy the early title in increasingly creative ways. It also receives lots of love from modders who have mixed "Doom" with everything imaginable, even the adorable cat from "Stray." Now, the Dark Knight himself is coming to "Doom" with an upcoming mod from developer TeamRayCast.
Titled "Batman: Rogue City," this mod for "Doom 2" is more than just a reskin or an addition of some minor content. Listed as a total conversion, it looks to be an entirely new game, built from the ground up, in the "Doom" engine. Players will take control of Batman as he patrols Gotham City, taking on a variety of foes and, if the trailer on the mod's page is any indication, it should be a pretty epic experience.
Take on Batman's Rogues Gallery with a variety of weapons
"Batman: Rogue City" looks to be massive in scale with the trailer featuring a variety of environments and enemies. Players will be able to explore sewers, the Gotham Stock Exchange, docks, Arkham Asylum, and other locations, battling different villains and henchmen with a variety of weapons as well as their bare hands. In addition to gadgets like the Batarang and a shock-gun, Batman can get around the map with a grappling hook and will even have access to the Batmobile, complete with machine guns.
TeamRayCast promises both famous and "lesser known" villains will make an appearance and the trailer specifically shows off Mr. Freeze and The Joker, accompanied by Harley Quinn. It also features some henchmen in costumes that could, potentially, match a Scarecrow aesthetic.
The team behind this mod already has considerable experience with modding in general and with Batman mods in particular. In 2012, it released a "Wolfenstein 3D" mod titled "Batman vs. Bane" and followed that up in 2015 with "Batman: No Man's Land." Both currently have excellent community ratings on ModDB, which speaks well for the future of this current project.
This mod is still in development with no set release at this time. However, one of the members of the team has posted in the mod page's forum that an open beta will be coming soon. For Batman fans disappointed by the reviews for "Gotham Knights" and looking to play something in honor of Batman voice actor Kevin Conroy, this could be a mod to keep an eye on.