YouTube Still Hasn't Offered Dr Disrespect A Contract, And He Isn't Happy
Greg Doherty/Getty Images
Despite being with the platform for over two years now, popular streamer Dr Disrespect has yet to receive an exclusive offer from YouTube Gaming — and his growing frustration is beginning to show.
In the aftermath of his ban from Twitch back in April 2020, Dr Disrespect took a brief hiatus from streaming. The Two-Time would return to streaming that August, this time on YouTube. Meanwhile, Doc would go on to take legal action against Twitch — a dispute that would eventually be squashed without a court hearing. Despite this fact, Dr Disrespect has not returned to Twitch and has remained on YouTube where his star power has continued to shine.
When the Doc first joined YouTube, its platform was still a fledgling force in the world of streaming. However, since then, YouTube Gaming has in some ways become a better choice for content creators than Twitch. In turn, many of Twitch's top personalities have been lured over to YouTube in the past few years, including Myth, Ludwig, and LilyPichu, all of whom have signed lucrative contracts with YouTube Gaming. However, Dr Disrespect — who has been with the platform since before its blow-up — remains without an official contract with YouTube. Fans were reminded of this fact when he called attention to it on Twitter recently.
Dr Disrespect would rather have an official deal with YouTube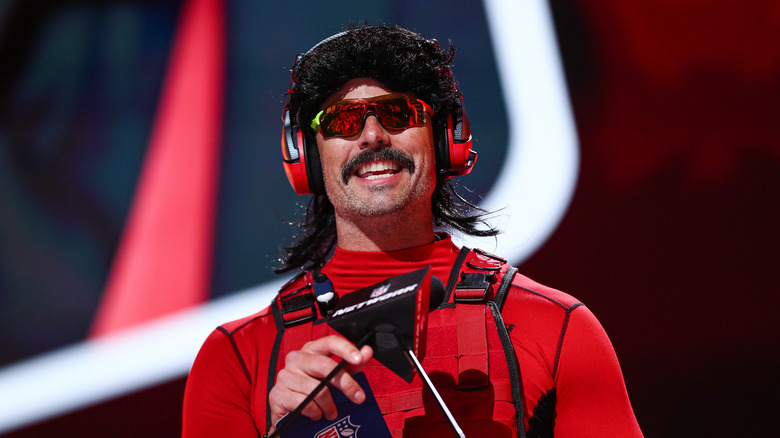 Kevin Sabitus/Getty Images
Back in August, Dr Disrespect took shots on YouTube, claiming that the platform hasn't been supportive of him since he joined. On his personal Twitter account, Doc summed up his experience: "No follow, zero communication, absolutely no love." Unfortunately, it seems that the two parties have yet to come to any formal agreement, as seen in a newer post.
In attempt to prove how valuable his presence is on the platform, the Doc tweeted another swipe at YouTube, pointing out that whenever YouTube Gaming posts a tweet referring to its official content creators, the replies seem to get flooded with people referencing Doc and his importance to the streaming industry. 
Every time YouTubeGaming tweets... pic.twitter.com/WwAXmd79sa

— Dr Disrespect (@DrDisrespect) December 12, 2022
The responses to this tweet are also filled with support, with fans imploring YouTube Gaming to give Dr Disrespect a streaming contract. "It's simply mind boggling that you don't take advantage of this multifaceted creator blessing your platform with his presence. Wake up," one user said. Whether this swell of support will lead to the creator finally getting an official deal remains to be seen.