The Xbox One Game That Takes The Longest To Beat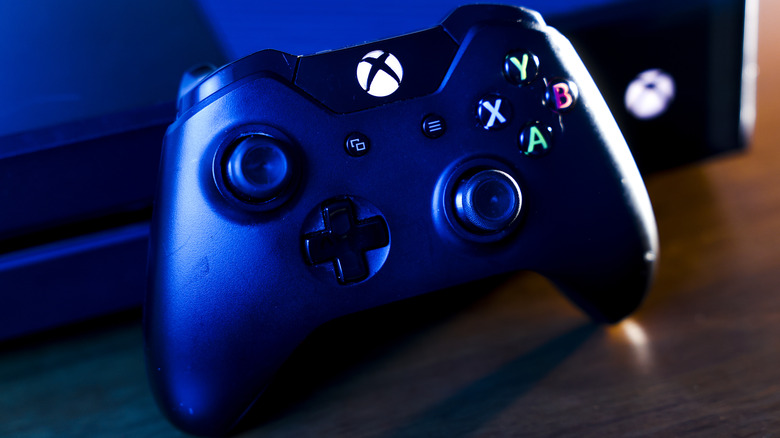 Bloomberg/Getty Images
Xbox One has served as a waypoint for some fantastic games. Entries like "Elden Ring," "Assassin's Creed Valhalla," and "The Witcher 3: Wild Hunt" have lingered in gamers' minds due to their open worlds packed with story points, collectibles, challenges, and adversaries to encounter: Hours upon hours of gaming. Considering the amount of content within the original Xbox game that takes the longest to beat, a month of Xbox Game Pass may not be nearly enough time to beat many modern titles. But which Xbox One game earned the reputation as the longest to beat?
As far back as 2020, outlets including The Gamer and whatNerd dubbed "The Witcher 3" as the longest game to beat story-wise while GameRant answered with "Monster Hunter World." Each of the monster-slaying titles offered a heaping ton of content and replayability for sure, with staggering varieties of armor sets, weapons, and other collectibles. Yet neither has clocked in as the longest Xbox One game according to HowLongToBeat: A site partnered with Xbox (per Destructoid) to poll the time players spend beating and completing games. The site has awarded that title to an unexpected contender.
Get your farming on (and on and on)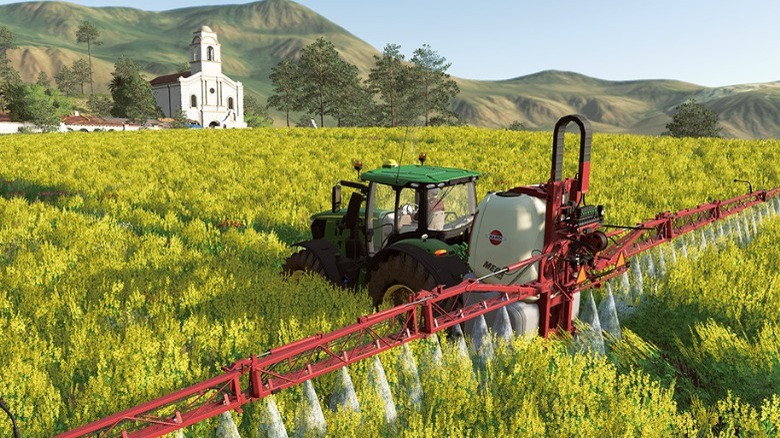 Giants Software
True to its name, "Farming Simulator 19" advertised itself as a game built entirely around designing and running a farm. Players not only plant and harvest crops, but buy equipment, take care of animals, and build every square inch of their property. Similar to positively-reviewed games like "Forza Horizon 5" where players collected hundreds of real-life cars, "Farming Simulator 19" offers hundreds of tractors, plows, sprayers, and other farming machines from legitimate brands. The surplus of options, not including mod support, translated to a game with an incredibly long single-player campaign: about 127 hours to beat the main story and 270 hours to 100 percent of the game (via HowLongToBeat).
Developer Giants Software spoke to Polygon in 2013 about the main audience for the series. Unsurprisingly, real farmers made up a significant crop. "They are the most vocal audience we have," artist Marc Schwegler said. "They're very active on our forums, and they'll tell us if we're doing something wrong."
In fairness to the lengths of other games, HowLongToBeat extrapolated its averages from just 22 total players. Fellow simulation games like "SnowRunner" received data from double or more than that number (per HowLongToBeat), so readers should keep in mind sample size differences. "Farming Simulator 19" has cultivated a dedicated fan base regardless — no pun intended, even becoming an esport where teams have competed for over $100,000.