Pokemon Just Broke A 24 Year Old Streak In 2022
Nintendo
The "Pokémon" series entered its ninth generation with the hugely successful release of "Pokémon Scarlet" and "Violet" versions (via Forbes), and throughout 2022 fans saw the franchise's stunning transformation that took the series in a bold new direction. However, throughout "Pokémon" history, one thing that's stayed constant is the regular release of spin-off games. For years, there have been side games in the "Pokémon" series that don't involve catching Pokémon, becoming a champion, or filling out a Pokédex — like "Pokémon Snap" and "Pokémon Mystery Dungeon."
2022 was unprecedented for "Pokémon," as the two significant releases proved an open-world approach works for the traditionally linear series. But despite some gameplay and world design differences, all of 2022's "Pokémon" releases were mainline games. It's the end of a 24-year-long streak for the "Pokémon" franchise, as 2022 didn't bring a new spin-off game. This hasn't happened since 1997, the year after "Pokémon Red," "Green," and "Blue" were released in Japan, and the same year the "Pokémon" anime came out.
2022 is the first year since 1997 no spin-off Pokémon games released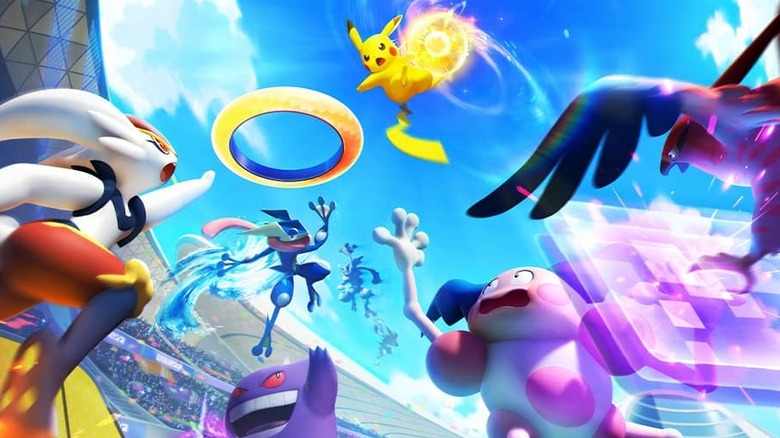 Nintendo
2022 saw three major "Pokémon" games come out. The most recent two, "Pokémon Scarlet" and "Violet," make up the series' ninth generation, and "Pokémon Legends: Arceus" lands at the tail end of the eighth generation — also including "Pokémon Sword" and "Shield." Despite a year of near-constant buzz about the franchise, there weren't any other "Pokémon" titles that came out in 2022. 
The year prior had "Pokémon UNITE" and the unexpectedly grindy "New Pokémon Snap," and 2020 saw spin offs like "Pokémon Mystery Dungeon: Rescue Team DX." Before then, there was "Pokémon Tower Battle," "Pokémon Quest," "Pokken Tournament," and dozens of others going all the way back to 1997.
This is true across the world, even in Japan which has gotten more "Pokémon" games than any other country. After "Red," "Green," and "Blue" saw a Japan release in 1996, there wasn't another "Pokémon" game until 1998, which saw the release of mainline game "Pokémon Yellow" alongside spinoff projects like "Pokémon Stadium" and "Hey You, Pikachu!" The original three games weren't released outside of Japan until 1998 — meaning that 2022 is the first year without a side game since "Pokémon" was brought to the rest of the world.
Isn't Pokémon Legends: Arceus a spin off game?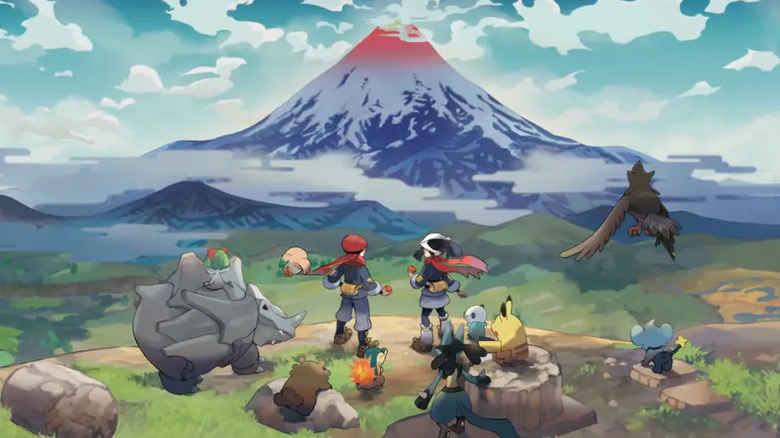 Nintendo
While "Pokémon Scarlet" and "Violet" are widely considered the mainline games that begin the series' ninth generation, "Pokémon Legends: Arceus" is in a bit more of a grey area among fans. Because Game Freak developed "Arceus" following the mainline series' formula and it's included in Nintendo infographics about the mainline series, many consider the title a mainline game. Though it takes a wildly different approach- having a hub area, a brand new open world, and the ability to fully see and interact with Pokémon in their habitats, "Arceus" isn't fundamentally different than any other main "Pokémon" game.
Some fans have questioned whether it should be considered a main entry. Ultimately, the arguments against it claim "Arceus" is a spin-off because it deviates too much from the traditional formula. While this may seem initially valid, many of the same deviations helped "Pokémon Scarlet" and "Violet" carve out their identity. Further, both "Pokémon Lets Go Eevee" and "Pikachu" are considered mainline "Pokémon" games, despite the nontraditional approach both entries take. These titles all share the same basic gameplay; plus, "Arceus" and the "Lets Go" games were developed by Game Freak, while most spin-off games are not.
So, if "Arceus" doesn't count as a fully-fledged spin-off, who knows when the next will come.