It's No Secret Why Cyberpunk 2077 Lost Almost All Of Its Playerbase Within A Month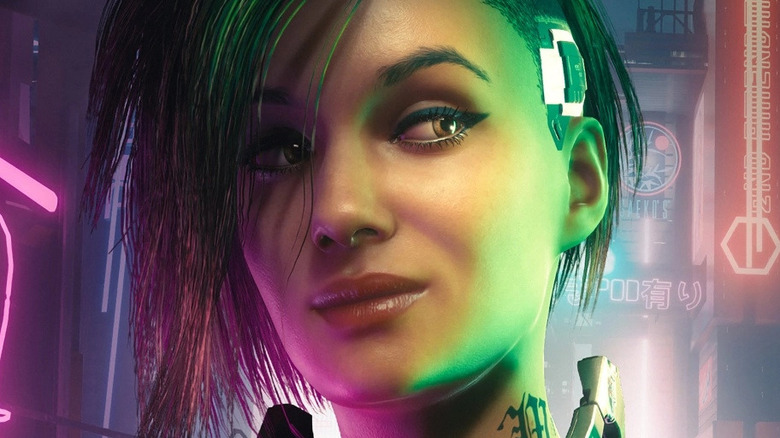 CD Projekt
At one point in time, CD Projekt RED's "Cyberpunk 2077" was widely anticipated in all corners of the industry. And when it finally released in December 2020, that anticipation was reflected in the numbers, selling over 13 million digital sales in its first weeks of availability (via Bloomberg). Unfortunately, within a month, the game's player count — which at one point peaked at over 1 million concurrent players — completely tanked. And it's no secret as to why.
Advertisement
Despite being one of gaming's most hyped-up titles, the launch of "Cyberpunk 2077" was bogged down in controversy pertaining to loads of bugs and glitches as well as a laundry list of cut content. In turn, "Cyberpunk 2077" was subject to a massive amount of refund requests that became so bad that PlayStation booted the game from its online store. By January 2021 — a month after the game's release — "Cyberpunk 2007" showed a dramatic 79% drop in total players, three times worse than the drop-off experienced by CDPR's previous title "The Witcher 3" (via GitHyp). At the time, it was one of gaming's most cautionary tales of a game being propped up by the media and gamers alike only to buckle under the weight of its own hype.
Advertisement
Despite such a huge loss to its player base, "Cyberpunk" would eventually have a resurgence that few saw coming.
Cyberpunk 2077 didn't fade into oblivion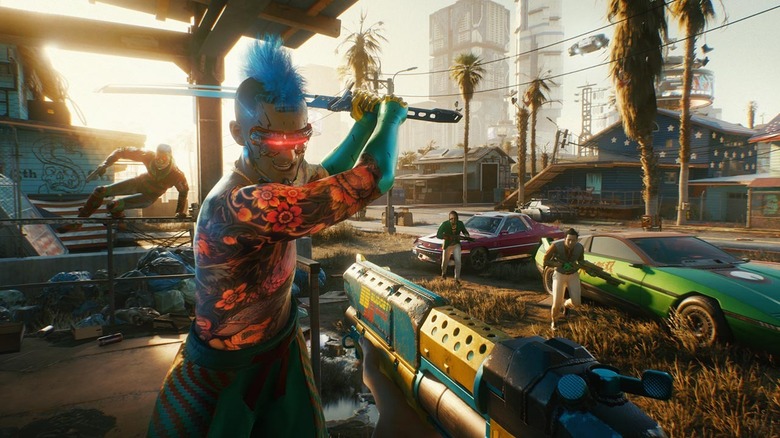 CD Projekt
Immediately following its release, "Cyberpunk 2077" continued to struggle on the market. According to SteamCharts, the player count had sunk to below 20,000 by the summer and failed to attract new players despite a series of patches. However, long after its launch disaster, "Cyberpunk 2077" would re-enter the spotlight once again thanks in part to the launch of a tie-in project that captured the gaming world's attention.
Advertisement
On September 7, 2022, it was announced that the game would be receiving its first (and only) DLC expansion, "Cyberpunk 2077: Phantom Liberty," at some point in 2023. Additionally, the game received the "Edgerunners" update, which coincided with the release of the Netflix prequel anime series "Cyberpunk 2077: Edgerunners." The show proved to be massively popular with both viewers and critics, prompting the game to see a huge resurgence in player numbers. In total, the game saw a concurrent player count of around 90,000 after hovering around the 10,000 mark for a majority of the year.
There's still work to be done. And the jury's still out about whether or not "Phantom Liberty" will solidify the "Cyberpunk 2077" comeback. But for now, "Cyberpunk 2077" has at least salvaged some of what was lost in the immediate aftermath of its release.
Advertisement