Minecraft Legends Features A PvP Mode That Offers Some Exciting 4v4 Competition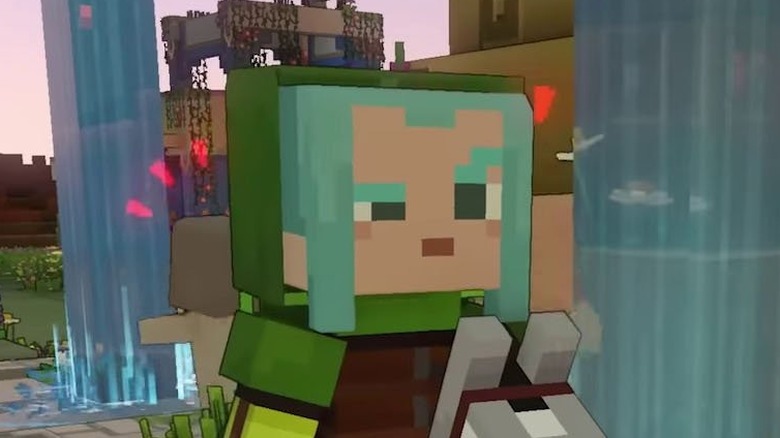 Xbox Game Studios
Xbox and Bethesda had plenty to reveal during the January Developer Direct showcase. "Hi-Fi Rush," 2023's first surprise hit may have stolen the show, but the presentation opened with an extended look at the exciting PvP mode within the upcoming spinoff title "Minecraft Legends."
The show didn't touch as much on the game's co-op, but it did once again confirm that the title will feature full crossplay between Xbox and PlayStation consoles, PC, and Nintendo Switch when it launches on April 18, 2023. As an Xbox Game Studios published title, "Minecraft Legends" will arrive on Xbox Game Pass for both console and PC, which means there will be a significantly lower bar for entry. This, in turn, could lead to plenty of players jumping into the online, competitive matchmaking for the title. Thankfully, the Developer Direct gave fans a healthy taste of what to look forward to while waiting for the game's release.
The PvP mode in Minecraft Legends has something for everyone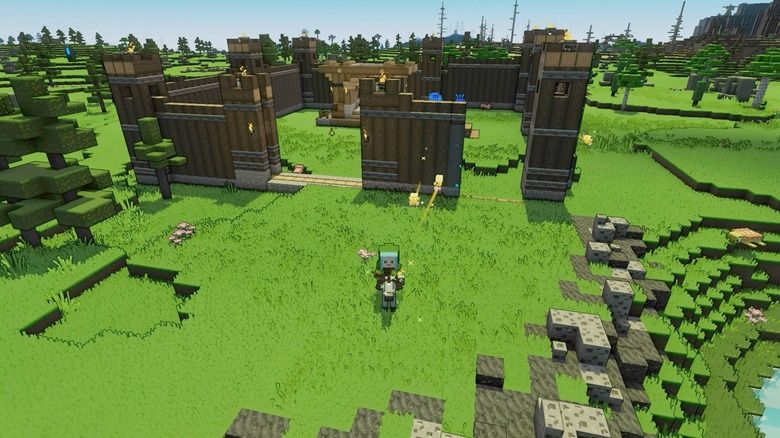 Xbox Game Studios
Shortly after introducing the world of "Minecraft Legends" within the Developer Direct, the game's creators both at Mojang and Blackbird Interactive gave viewers a rundown of how it all works. Within the game's 4v4 matches, it's up to the opposing teams to destroy one another's base while preventing the same fate from befalling their own. In the words of the "Minecraft Legends" developers, communication is key to victory in PvP. One's army and resources are shared between the entire team, so it's up to players to speak with one another to decide where to send units or how to best use gathered materials. 
Luckily, there seems to be a little something for everyone in these multiplayer matches. Players that enjoy strategy and action can attack enemy players or the hostile Piglin mobs that are aggressive toward both teams, players that enjoy exploring can scout the enemy base, gather resources, or even discover rare finds in chests, and players that enjoy building can stay behind to defend, build, and fortify their team's base. 
To add an extra layer of complexity to these matches, the worlds that players fight within are procedurally generated. This should also help to keep the matches from growing stale and ensures that no two battles feel the same. Just how different the matches feel from one another and just how much mileage players get out of the title remains to be seen, of course, but it won't be too much longer before players can build and besiege one another's fortresses on their own.